How to dance haitian kompa
Dance in Haiti - The CRUDEM Foundation, Inc
By Amanda MacFarland
Deeply connected to Haitian music, dance in Haiti is filled with community, emotion, spirit, and history. Despite cultural stereotypes that label dance as a taboo activity reserved only for religious or spiritual rituals, or the views of many who think of dance as a "women's only" activity, dance has managed to evolve and embed itself into the lifeblood of the Haitian people.
The beat of the drum resonates from the soul of the Haitian people and is expressed through movement. Haitian dance has its roots in Africa and tells stories of important life events, invokes spirits, and promotes fellowship among those in earshot of the sounds.
Compas Dance
This style of dance originates specifically from Haiti, and it shares the same name as the style of music that drives it: Compas. Compas dance is driven by the quick tempo beats provided by guitars, saxophones and synthesizers.
Similar to meringue dancing, but performed at a slower tempo, Compas involves moving the pelvis, shoulders, arms, hands, hips, and feet. Compas can be a partner or a solo dance, and some people have described it as the Haitian version of salsa dance. Watch a YouTube video of Haitian Compas Dance
Festival Dance
The Rara Festival is a yearly celebration that falls between Ash Wednesday and Easter Sunday. Rara is unique in that it combines traditional music with cultural Haitian Dance, and is sometimes infused with expressions of political protest. Despite the many reasons there are for observing Rara, the festival is embraced by all Haitians and is widely celebrated. Rara musicians and bands compete to win prizes by provoking the festival-goers to dance. The festival usually closes with a lead male dancer performing a traditional dance and salute. Watch a YouTube video of Rara Festival Dance
Religious Dance
Haitian dancing mixes African styles with cultural traditions.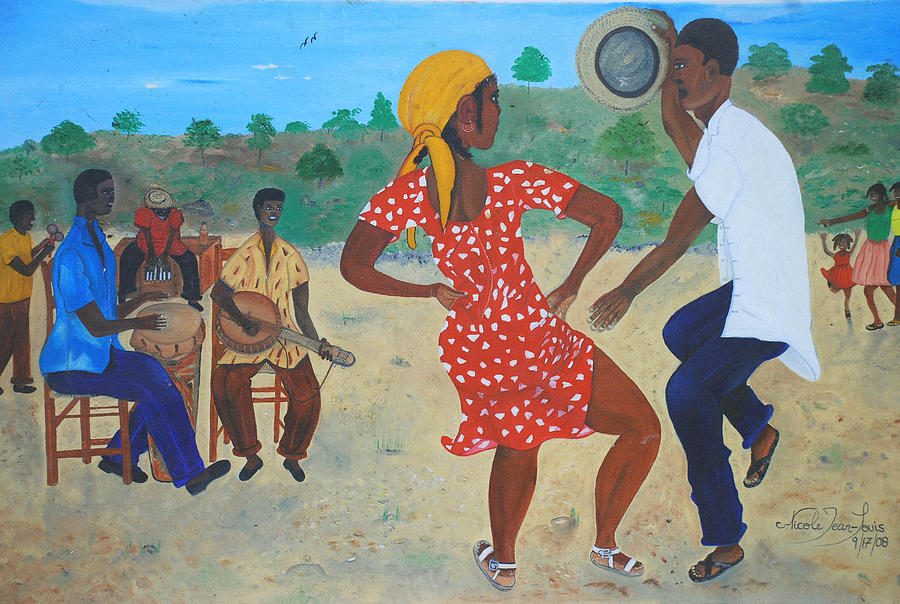 In the Haitian Vodou religion, it is believed that each of the gods and goddesses, called Loa or L'wa, inspired their own unique dance movements that range in dynamics from subtle to aggressive.
Yanvalou is the name given to a form of dance associated with Haitian Vodou, but it was originated in Benin, West Africa. In Haiti, Yanvalou is performed in a group as a prayer, invoking deities and moving the dancers to lose consciousness and enter into a state of trance. The dance movements can include wild spinning, undulation of the spine with the hands placed on bent knees. Watch a YouTube video of Yanvalou Dance .
Famous Haitian Dancers
An American dancer named Katherine Dunham traveled to Haiti in the 1930s and was inspired so deeply by Haitian dance that she began studying Haiti's culture, traditions, and history. Dunham learned the traditional and ceremonial dances and presented them internationally, making Haitian dance a tangible form of expression throughout the world.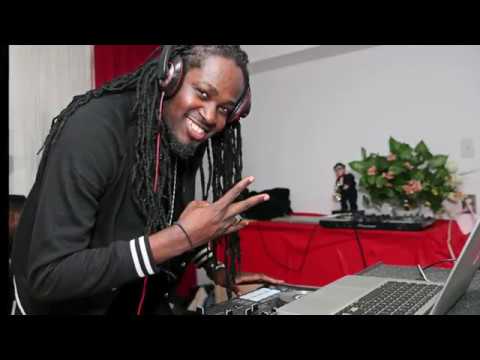 Dunham's unique blend of dance styles also helped to evolve American modern dance by combining Haitian movements with those of the emerging modern dance artists of the time.
Later in her life, Katherine Dunham led a hunger strike to protest discrimination toward Haitian boat people. For this, the Haitian President awarded Dunham a medal of Haiti's highest honor and named her the "Spiritual Mother of Haiti." Watch a YouTube video of Katherine Dunham's "Haitian Storm" dance.
A student of Katherine Dunham, Jean-Léon Destiné, was a dancer and choreographer from Saint-Marc, Haiti. Destiné is known as the father of Haitian professional dance. His choreography combined elements of Vodou with his own personal blend of movements inspired by spirited drumming. In the late 1940s, Destiné established a dance company in Haiti and in NYC. Watch a YouTube video of Jean-Léon Destiné's choreography.
More recently, a Haitian dancer named Jean Appolon, who grew up in a conservative middle class family in Port-au-Prince Haiti, planned to change his family's negative feeling toward dance by pursuing a dance career.
As a young boy, he saw a television performance from Haiti's School of the Arts and was inspired to take up dance, though his family did not approve of their son being a dancer. "What dance has really taught me is how rich we are as Haitians and as people of African descent, and the impact of the Afro-Haitian tradition for dance around the world," says Appolon. "That's something that makes me extremely proud, and I want to be the next generation to represent that."*
Jean Appolon moved to Boston, MA in 1993 and earned a degree at the Joffrey Ballet School. Appolon's goal is to preserve Haiti's cultural legacy through dance, celebrating the connection between Haitian dance and the rites of Vodou ceremonies. In 2006, he opened a free summer dance program in his hometown of Port-au-Prince to help other children learn more about their culture through the study of dance. Watch a YouTube video of Jean Appolon's Summer dance program in Port-au-Prince.
Dance is Life
As important as music is to the Haitian people, dance is a vital way for Haitians to express, heal, evoke, and celebrate life.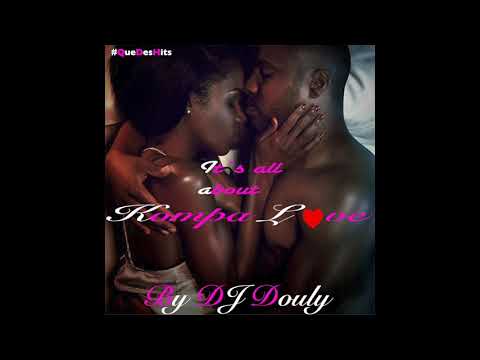 Dance in Haiti is always evolving, thanks to pioneers like Jean Appolon, who have established free or low-cost dance education facilities to help Haitians expand their art within and beyond tradition. Though, one does not need to attend a class to understand how to dance in Haiti; as soon as the drum starts beating, you will know how to dance.
---
*"Dancing for Haiti: One artist's quest to help preserve the country's culture and promote healing."
What is Konpa / Kompa / Compas?
Webert Sicot, the originator of cadence known for his great virtuosity, mostly harmonic skills, was well appreciated in the Caribbean. This is why the term cadence was more popular than compas. Cadence-lypso is the Dominican kadans.
Cadence and calypso were the two dominant styles in Dominica hence the name cadence-lypso. The great majority of the songs are either calypso, reggae and mostly cadence or compas. If there is any fusion it should not be significant enough to be listed on album or CD covers.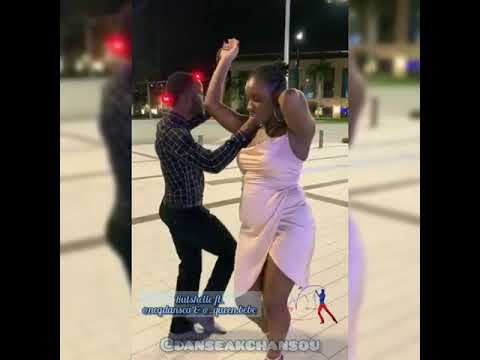 Finally cadence-lypso is danced the same way as compas.
Originally the word cadence or kadans was on album covers, whether grammacks or exile one. They featured calypso, reggae and mostly cadence: Grammacks: mediba (kadans), banana (sweet kadans), ou pa bon, (kadans), ou pitit (kadans), reggae down, disco live (kadans) this same tune is categorized as zouk retro by Deejay Zak (midlay kadans 11/24/2011) Exile one: akiyaka, gade deye…(Midnight) get ready 1997, etc.
Exile One, the leader of the word cadence-lypso, featured some reggae, calypso and mostly cadence music. For example: Album "Exile one – Gordon Henderson 40 volume 1" features 14 kadans out of 18 tunes. 1. Rosita 2. ba yo boi 3. jumbolo 4. jamais voir ca (calypso tune) 5. reflexion 6. n'homme ka batte n'homme 7. gadez deye 8. ah ta ta 9. Ico vole 10. pompilili 11. aki yaka 12. vivent les vacances aux antilles (calypso tune) 13. Ilyne (calypso tune) 14. nous travail pou ayen 15. cadence lypso 16. sexile 17. come here (reggae tune) 18.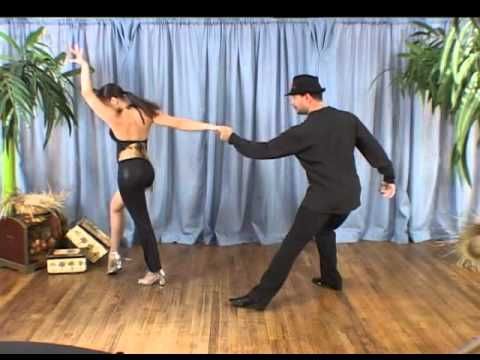 interlude. The song cadence lypso is a kadans tune. A third album "Collector kadance lypso" features twelve méringue cadence tunes. The album also features tunes from other kadans bands: 2. Rigrete (Midnight Groover), Serpent la (C Top 6), la vie vini plus raid (Belles combo) 9. Coq et perroquet (Liquid Ice) 12. mwen di ou fe (Black Affairs) 7. Chanson d'amour Ophelia (Exile one).
It is not sure whether the band's intent was to fusion Trinidadian calypso with Haitian cadence or compas since little was done. The song "La Dominique" in the Album "Exile One Old School Session" could be an attempt, however, not often repeated. The band music repertoire is mostly cadence or compas with all the features of the style.The album "Exile one-Old school Session: Gree/Vert" features mostly méringue cadence or compas: 6 out of 8 tunes. 1) fete commune 2) torti 3) famille Creole 4) d'leau 5) sauvez riviere la and 7) Sylvie of course the band had its personality; it was a great kadans band. In the early 1970s, The full-horn section kadans band Exile One led by the talented Gordon Henderson was the first to use the synthesizers to their music that other young cadence or compas bands from Haiti (mini-jazz) and the French Antilles emulated in the 1970s.
Exile One toured many places with kadans music: Japan, the Indian Ocean, Africa, North America, Europe, The Cape Verde islands. Other Dominica cadence bands included the Grammacks. Review Exile one CD 40 anniversary, Grammack collection 74–76 and others available at amazon music: Black Roots, Black Machine, Naked Feet, Belles Combo, Mantra, Black Affairs, Liquid Ice, Wafrikai, Midnighte Groovers and Milestone, while the most famous singers included Bill Thomas, Chubby Marc, Gordon Henderson, Linford John, Janet Azouz, Sinky Rabess, Tony Valmond, Jeff Joseph, Mike Moreau and Anthony Gussie. Ophelia Marie is a popular singer of cadence in the 1980s.
Salsa Latin dance Dance studio Ballroom dancing, Dance border, shoe, performing Arts, dance png
shoes,
performing arts,
salsa,
latin dance,
merengue,
modern dance,
Argentine tango,
salsa congress,
tango,
bachata,
dancing,
kizomba,
joint,
ballroom dancing,
bowl,
country western,
Cuban rumba dance,
dance dresses,
skirts,
suits,
dance studio,
dancer,
entertainment,
events,
hustle,
png,
transparent,
free download
About this PNG
Image size

920x710px

File size

351. 07KB

MIME type

Image/png
Download PNG ( 351.07KB )
resize PNG
width(px)
height(px)
License
Non-Commercial Use, DMCA Contact Us
man and woman dancing, Ballroom dancing Latin dance Salsa Dance studio, dancing, miscellaneous, rhythm, dancing png 535x519px 227.11KB
Latin dance Bachata Ballroom dancing Salsa, others, shoe, performing Arts, dance png 500x500px 152.89KB
Ballroom dancing Business Cards, Dance studio Latin dance, Dancers, miscellaneous, people, dance png 1088x1200px 1.47MB
Latin dance Salsa Ballroom dancing Bachata, comedian, love, shoe, dance png 510x720px 87.75KB
Argentine tango Dance studio Salsa, others, shoe, fee, dance png 897x728px 453.09KB
Tango Ballroom dance Latin dance Dance, others, miscellaneous, performing Arts, tango png 589x706px 254.01KB
Latin America Salsa Dance studio Latin dance, others, performing Arts, music Of Latin America, latin America png 461x574px 286.46KB
man and woman dancing, Salsa music Kizomba Dance party, BACHATA, shoe, girl, shoe png 675x968px 558.78KB
Argentine tango Ballroom dancing Latin dance, latin dance, miscellaneous, line Dance, dance png 684x789px 361.54KB
woman and man dancing, Ballroom dancing Salsa Dance studio Partner dancing, dancers, miscellaneous, people, dancing png 800x1000px 472.41KB
woman and man performing dance, Salsa dancer Ballet Modern dance, dancing, purple, violet, formal Wear png 557x899px 431.87KB
dancing couple, Ballroom dancing Tango Music Milonga, latin dance, miscellaneous, performing Arts, dancing png 627x581px 270.29KB
Ballroom dance Tango Silhouette, swarovski, animals, free Dance, ballet Dancer png 1200x1200px 17. 5KB
Argentine tango Ballroom dance Milonga, others, string Instrument, performing Arts, dance png 500x500px 245.75KB
woman and man dancing sketch, Drawing Ballroom dance Salsa Waltz, couple, love, miscellaneous, couple png 1237x1024px 1.12MB
Ballroom dancing Tango salsa Partner dancing, salsa dancing, performing Arts, salsa, dancing png 500x750px 257.86KB
Using Ballroom dance Drupal Salsa, group dance, miscellaneous, dance, dance png 500x750px 370.51KB
three children dancing, Dance studio Hip hop Salsa Ballroom dancing, dancing, child, people, sports png 999x512px 457. 94KB
woman and man dancing, Street dance Zouk Choreography Performing arts, brazilian carnival, miscellaneous, hand, monochrome png 533x800px 366.57KB
Ballroom dance Dance studio Salsa Swing, latin dance, free Dance, shoe, dancing png 1322x1772px 1.31MB
dancing woman wearing green leather jacket and white crop top, Street dance Hip hop music Hip-hop music Dance studio, dancing, shoe, performing Arts, salsa png 585x685px 333.99KB
three dancing couples, World Salsa Championships Latin dance Bachata, sauce, public Relations, shoe, shoe png 850x364px 269.28KB
man and woman standing illustration, Dance studio Bachata Salsa Latin dance, festivals, miscellaneous, tshirt, monochrome png 562x831px 490.4KB
Ballroom dancing Salsa Latin dance Rumba, group dance, miscellaneous, girl, dance png 1075x1914px 1.14MB
Dance party Music of Latin America Salsa Social dance, salsa cubana, fictional Character, silhouette, dance Party png 649x738px 194.17KB
Social dance Argentine tango Latin dance, dancing, miscellaneous, performing Arts, dancing png 1123x1600px 740.18KB
Chile Country Country - Cuequi folklore, others, culture, performing Arts, country png 898x986px 605. 36KB
Social dance Argentine tango Dance studio, others, miscellaneous, performing Arts, dance png 569x660px 342.47KB
Latin dance Cha-cha-cha Dance studio Ballroom dancing, others, performing Arts, music Of Latin America, dancing png 550x826px 371.57KB
man and woman dancing illustration, Ballroom dancing Cha-cha-cha Latin dance Salsa, couple, love, miscellaneous, monochrome png 1000x1000px 798.46KB
Couple, Dancing Couples, Dancing, Ballroom Dancing, Latin Dance, Social Dance, Partner Dance, Waltz, Ballroom Dance, Couple Dancing, Dance png 621x800px 44.59KB
Ballroom dancing Silhouette Latin dance Salsa, couple, love, animals, monochrome png 1676x2000px 74.19KB
Ballroom dance Tango, latin dance, animals, fictional Character, hand png 650x500px 131.96KB
man holding cap illustration, Hip-hop dance Street dance Dance studio, dance floor, miscellaneous, head png 600x867px 419.67KB
boy and girl dancing waltz, Ballroom dance Studio Dancesport Tango, ballroom dancing, shoe, performing Arts, tango Argentino png 400x692px 231.28KB
Argentine tango Dancer Music, Tango, miscellaneous, performing Arts, dance png 652x800px 346.98KB
Latin America Latin dance Ballroom dance Salsa, others, performing Arts, latin American Music, dance png 512x512px 163.4KB
man and woman dancing illustration, graphy, miscellaneous, people, monochrome png 1000x1250px 58.3KB
Latin dance Argentine tango History of tango, others, performing Arts, historical Dance, dance png 500x554px 236.7KB
Street dance Hip-hop dance Dance studio Breakdancing, Dancers, miscellaneous, people, dance png 1575x1246px 1.47MB
Dance studio Salsa Bachata Swing, kizomba dance, performing Arts, salsa Music, dance Studio png 600x586px 307.19KB
Ballroom dancing Tango Dance move Waltz, club dancing, couple, monochrome, dancing png 2000x2490px 128.29KB
Salsa Dance music Music of Latin America Bachata, Dancers, miscellaneous, physical Fitness, people png 3000x1667px 489.51KB
man and woman dancing silhouette illustration, Latin dance Salsa Ballroom dancing, others, miscellaneous, logo, monochrome png 550x477px 31.14KB
Ballroom dancing Paso Doble Salsa Dance studio, dancing, miscellaneous, dance, dance png 1000x1000px 643.56KB
Foxtrot Dance studio Cha-cha-cha Hustle, dancing, miscellaneous, fictional Character, dance png 521x568px 38.71KB
Salsa Latin dance Dance studio Dance partner, Dancers, miscellaneous, people, dance png 1024x1024px 340.82KB
Ballroom dance Dance studio Waltz Foxtrot, ballroom, sport, silhouette, performing Arts png 529x560px 84.62KB
Ballroom dancing Tango salsa Dance music, salsa, miscellaneous, shoe, dance png 2048x2308px 3.72MB
woman dancing, Street dance Dance studio Hip-hop dance Art, hip hop, miscellaneous, poster, girl png 775x1049px 728.38KB
8 dances of Latin America | Around the World
Stories
Latin America is a region where musical and mobile people live. The inhabitants of a distant continent from an early age perfectly control the body and know how to dance what we have to learn long and hard.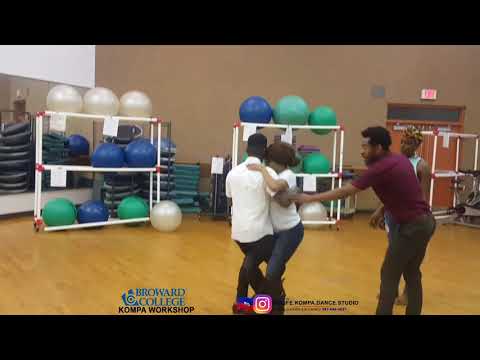 "Around the World" tells what dances are popular in Latin America and why.
Salsa
Salsa is an incendiary dance of Cuban origin that originated at the junction of African and Spanish cultures. The musical style, in which more than 10 directions, adapted to South American realities and spread across the continent and beyond. According to Latin Americans, salsa cannot be learned, it must be felt.
Bachata
Bachata is a sexy dance from the Dominican Republic, the land of passion and fleeting love. To lyrical melodies with romantic lyrics, couples move dangerously close to each other. As the Dominicans say, you need to concentrate on the partner's body, and everything will work out!
Merengue
Merengue is a fast dance where the right choice of instruments is extremely important. Tambor and dried pumpkin guira set the pace. The dance originated at the end of the 19th century, so we are more loved by the older generation, although sometimes all the inhabitants of South America are not averse to moving in this style.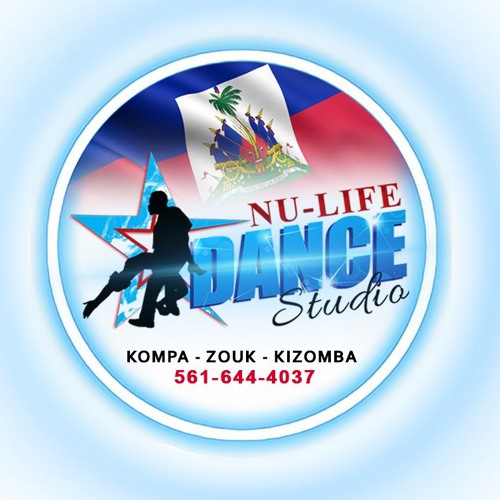 Reggaeton
All Latin dances are about sex, but reggaeton is the most explicit. There are no rules in it, the main thing is to make seductive movements, invitingly squirm and merge with a partner in a passionate outburst. And it is better not to listen to the words, so as not to inadvertently blush.
Tango is associated with Argentina, although not all the inhabitants of the country dance it. Tango is a passion, but not as open as in reggaeton. Tango is dominated by feelings, not instincts, and the relationships, expressed in smooth movements, are poignant and deep.
Samba is a Brazilian dance and a symbol of carnival. Bright outfits, white-toothed smiles, hot bodies. The dance was born in the state of Bahia, where there is a strong African influence. Samba has many directions, and even in the favelas, residents enjoy the samba of the Brazilian slums.
Cumbia
The cumbia folk style originated on the Atlantic coast of Colombia.