How many dancers in the rockettes
The Story of the Radio City Rockettes
The Rockettes began kicking up their shoes since Russell Markert, the Rockettes' chief choreographer, image-preserver and resident "father figure" of the famous troupe until he retired in 1971, founded the exemplary American chorus line—an exciting precision dance company with great style, flair and glamour—in 1925.
Inspired by the British dance troupe formed by John Tiller ("The Tiller Girls" performed in a 1922 Ziegfeld Follies production), Russell wanted to achieve absolute precision and ultimate uniformity in the movements of the dancers. Originally, a Rockette had to be between 5'2″and 5'6 ½", but today, she is between 5'6″and 5'10 ½" and has to be proficient in tap, modern, jazz and ballet. Starting with just 16 women, over the years the troupe grew to a line of 36 dancers.
The dancers known as the "Missouri Rockets" made their show debut in St. Louis. That same year, the troupe traveled to New York City to perform in the Broadway show Rain or Shine, and were discovered by showman S.
L. "Roxy" Rothafel.
The "Missouri Rockets" were such an instant hit, that Rothafel was loath to let them leave after their performances at the Roxy Theatre, and pleaded with Markert to form another line to replace the departing dancers.
While there were three separate dance troupes performing in New York City in the early '30s, Rothafel moved two of the troupes to Radio City Music Hall for opening night on Dec. 27th, 1932. Described as "the hottest ticket in town," more than 100,000 people requested admission, but only 6,200 could be obliged.
Rothafel first dubbed the troupes as the "Roxyettes," who performed a routine to the song "With a Feather in Your Cap" on opening night, but in 1934, the "Roxyettes" officially became the Radio City Music Hall Rockettes.
Two weeks after its gala opening, Radio City Music Hall premiered its first film, The Bitter Tea of General Yen. Radio City quickly became the favorite first-run theatre for moviemakers and moviegoers alike.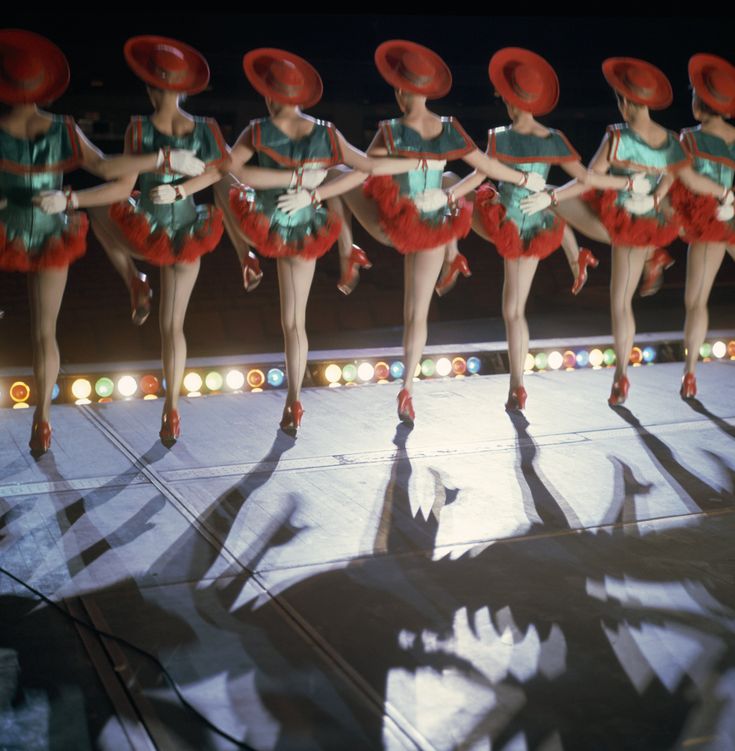 Before long, a first showing at the Music Hall virtually guaranteed a successful run in theatres around the country.
Since 1933, more than seven hundred movies have opened at the Music Hall; like the original King Kong, National Velvet, White Christmas, Mame, Breakfast at Tiffany's, To Kill a Mockingbird, Mary Poppins, 101 Dalmatians and the Lion King.
Radio City featured a new movie every week accompanied by a lavish and unique stage production starring the Rockettes.
After the attack on Pearl Harbor, the United States entered World War II. The Rockettes were among the first entertainers to volunteer for the United Service Organizations (USO). They entertained our troops abroad and were involved in wartime shows at the Copacabana, the Army Air Corps base in Pawling, New York and at the Stage Door Canteen. The Rockettes and Eleanor Roosevelt even hosted a War Bond Rally at the World's Most Famous Arena, Madison Square Garden.
Radio City was showing world premiere movies together with stage shows, sometimes as many as five a day. The movies kept playing as long as there was demand for tickets, and the shows changed every time the movies did. If a film failed at the box office, the Rockettes suddenly had to rehearse the new show at dawn, at midnight, and in between.
Because of their demanding schedule, Radio City Music Hall became their home away from home. They worked, played, ate and often slept within its walls. Facilities including a 26-bed dormitory, cafeteria, recreation area, tailor shop and hospital with medical staff, were provided to support and sustain what many recall as an extended family.
Americans in the '50s increasingly turned to television for their entertainment, so it was inevitable that television would feature the Rockettes. They made their first TV appearance on Wide, Wide World, and also performed for the first time in the Macy's Thanksgiving Day Parade in 1957.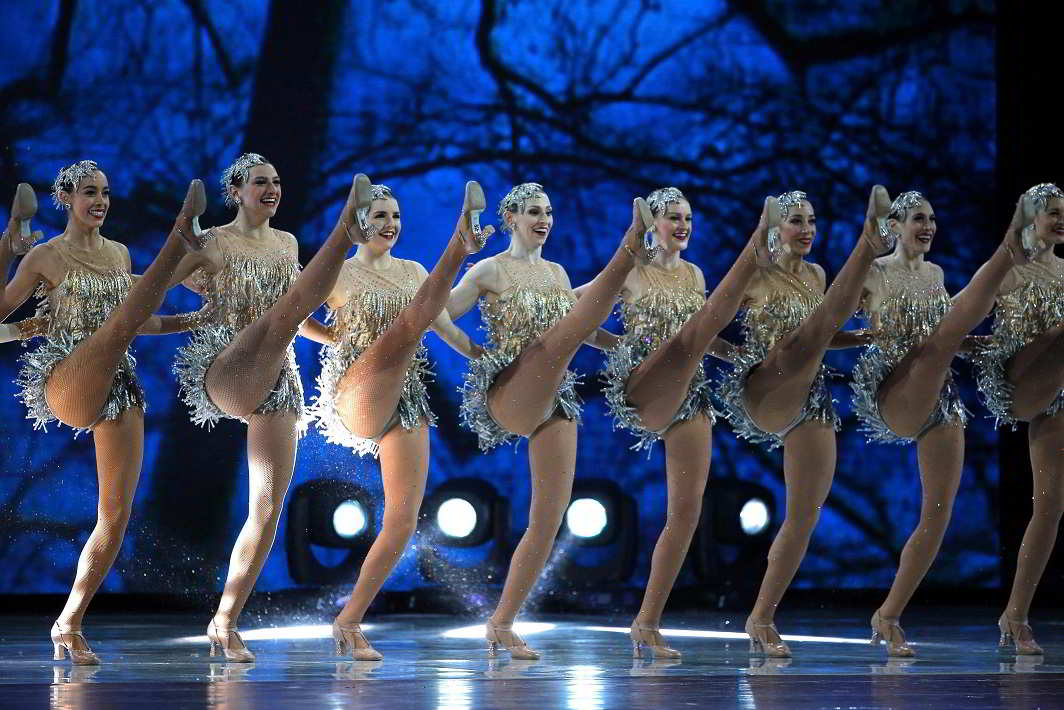 Like so many events the Rockettes took part in, it became a New York City tradition.
The '60s were a time of social change and political activism, so it's no surprise that the Rockettes broke new ground for women in those early years. In a salute to both Feminism and the Space Age, the Rockettes danced as astronauts on the Great Stage.
Their production numbers also reflected an incredible variety of music, dance and costuming (after the bikini craze that entered the fashion world in the '60s, the Rockettes raised their kicks and hemlines!). They appeared as Geisha girls, hula dancers, bull fighters, chimney sweeps and even can-can dancers.
In 1961, Eastman Kodak, created a color photomural featuring the Rockettes. It was the largest mural of its kind ever made, and was hung in New York City's Grand Central Terminal.
While Radio City was a popular venue for filmmakers to premiere a movie, it wasn't uncommon for the stars to make an appearance before the showing. In 1962, none other than Cary Grant surprised the Rockettes when he came to promote his new movie, That Touch of Mink.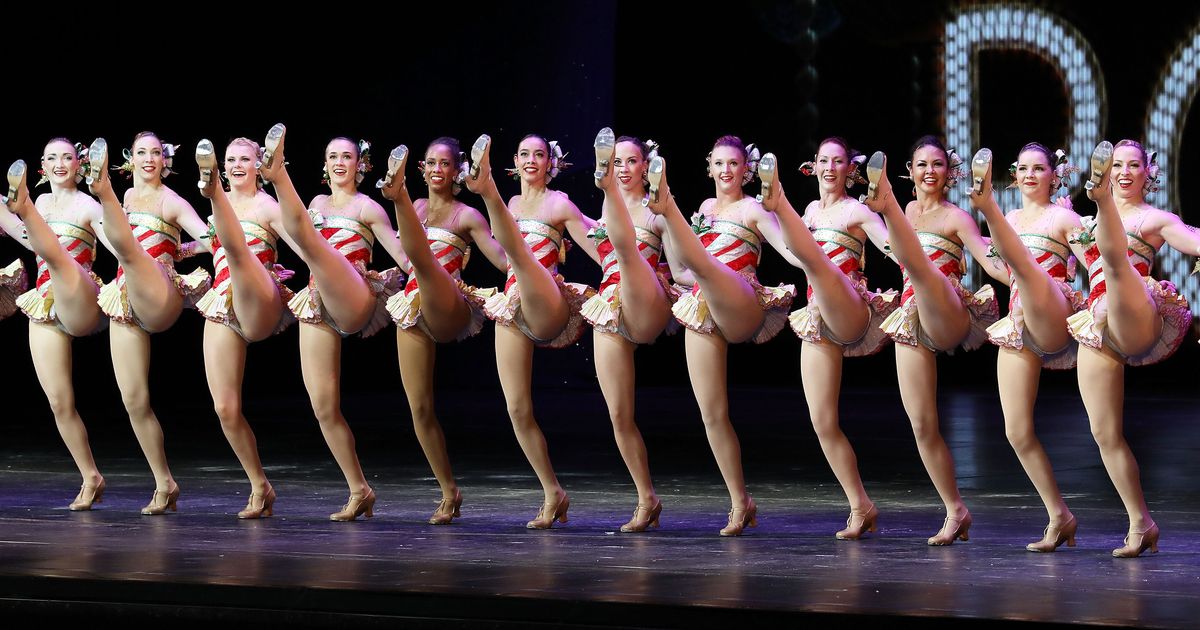 One of the most awesome productions in the history of Radio City took place with a salute to Walt Disney. Sections of the theme park's famous Main Street, Frontierland, Tomorrowland and Fantasyland were recreated right on the Great Stage, all under the personal supervision of Walt Disney himself.
Radio City management began closing the theatre for weeks at stretch, leaving the once busy Rockettes with time on their hands. The troupe petitioned for the right to take the show on the road when Radio City was dark. In 1977, the Rockettes appeared at Harrah's in Lake Tahoe, Nevada. Their precision dancing took the west coast by storm as they went on to play to sold-out crowds in Las Vegas. (They even opened for Liberace at the Las Vegas Hilton in 1979!).
In 1978, Radio City was slated to close due to financial problems. The Rockettes lead the crusade to save the theatre. In 1979, Radio City was designated a New York City landmark, saving it from the wrecking ball. The movie-and-stage-show format remained a Radio City signature until 1979, when the mass showcasing of new films called for a different focus.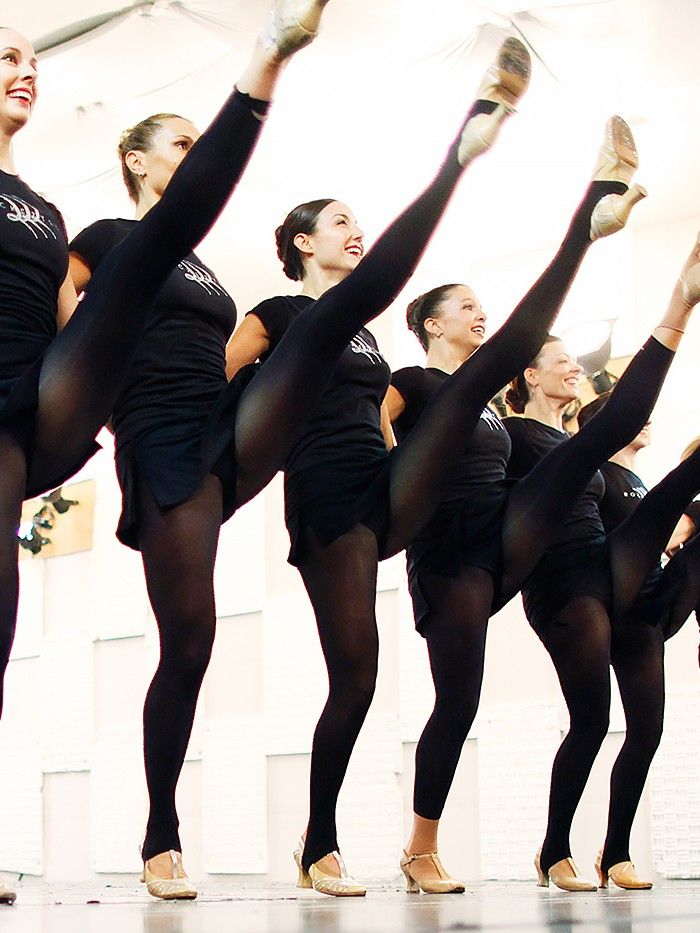 The decade ended on a wonderful upbeat note. The Rockettes starred with Swedish-American actress, singer and dancer Ann-Margret in a two-hour television special, A Holiday Tribute to Radio City Music Hall. (Ann-Margaret even joined the Rockettes in their iconic "Parade of the Wooden Soldiers" number!).
The Rockettes led the fitness movement that swept the country. The dancers were arguably the fittest women in America. Radio City had moved to a new format: it no longer showed movies, but presented 90-minute stage shows. The Rockettes danced four or five numbers in each of them, four times a day, seven days a week, for four weeks straight. Then each woman got a week off.
During the '80s, the Rockettes performed with Ginger Rogers in a show called, A Rockette Spectacular with Ginger Rogers, and also worked alongside Carol Lawrence and Liberace. They appeared as themselves in the movie Annie, starred in the 1988 Super Bowl halftime show and made a commercial for L'Eggs pantyhose, singing and dancing in praise of "a great pair of L'Eggs.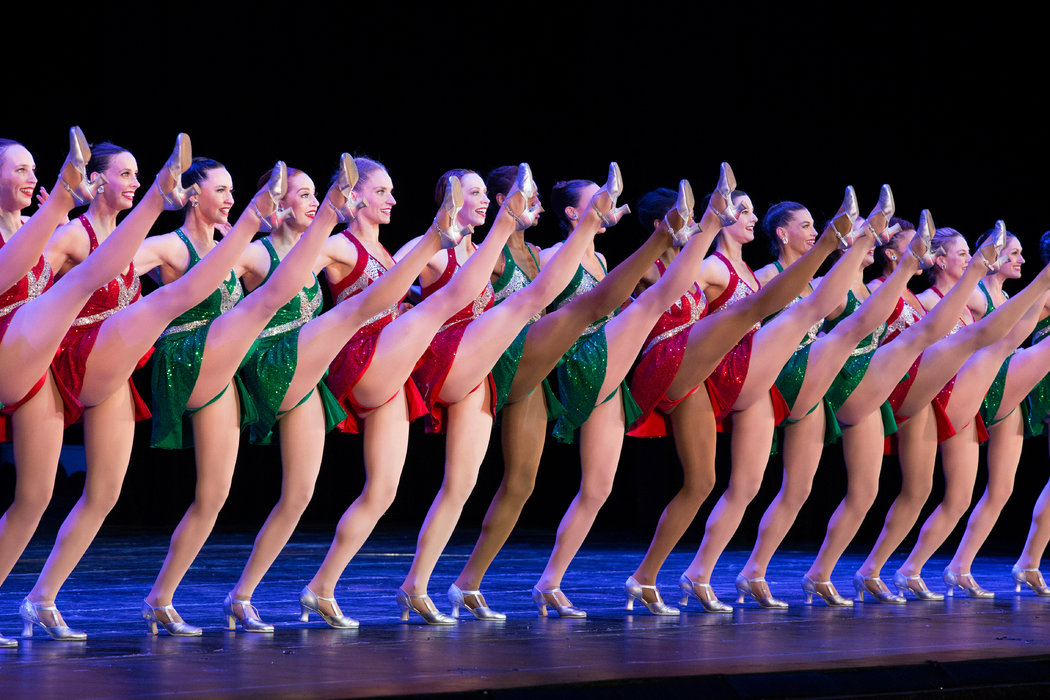 "
They went on the road, too, and performed in Vegas and Lake Tahoe. There, Sammy Davis Jr., a great admirer of theirs, watched their show night after night. On their closing night, without warning, he stepped out on stage and joined the line (Former Rockette Leslie remembers him being one of the sweetest men she has every met!).
To celebrate the 50th birthday of Radio City in 1982, producer and choreographer Bob Jani presented a lavish show featuring 50 years of Rockettes costumes. Another memorable event of throughout the '80s was a series of three television specials in honor of the centennial of the Actors' Fund of America. They were called The Night of 100 Stars, but actually over 200 of the most famous performers in the world took part; if you were a star of stage, screen or television, you were there. And it all took place at Radio City, so of course the Rockettes welcomed the audience, danced the big opening number and even got to share the stage with talent like Dick Van Dyke, Lana Turner, Grace Kelly and Muhammad Ali.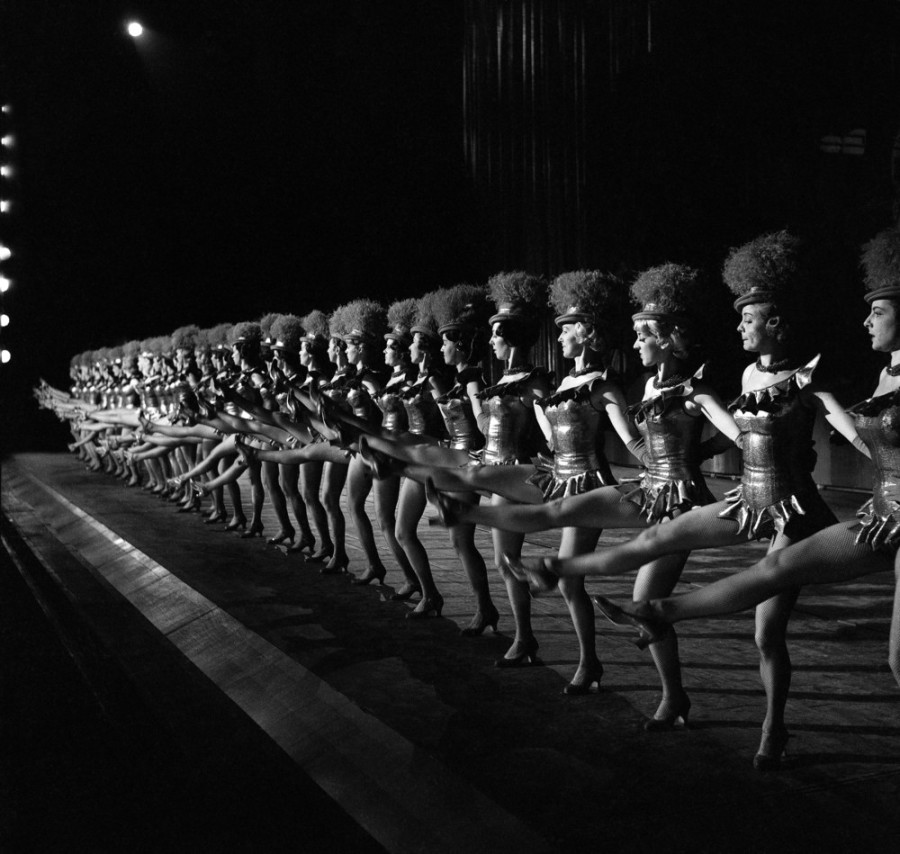 The Rockettes continued to present their ever-popular Christmas Spectacular and Easter Extravaganza. Choreographers and designers created new routines and new costumes for them, but the historic Radio City Music Hall was beginning to show its age. Radio City's parent company, decided that the world's greatest theater was in need of the world's greatest restoration. The vision? To restore Radio City to its former glory, to recapture the magnificence that made people gasp as they entered on that opening night back in 1932.
Every bit of gold leaf was repainted. Every one of 6,200 seats was recovered. In fact, there were now exactly 269 fewer seats. The company had surveyed the sightlines and ordered that seats be removed because they did not have an adequate view of the stage. They approved the purchase of a huge, 50,000-pound LED screen, which can be raised and lowered. It is the largest of its kind in the world. The projections from the screen's "light emitting diodes" make all kinds of scenery possible, and take the audience on magical journeys.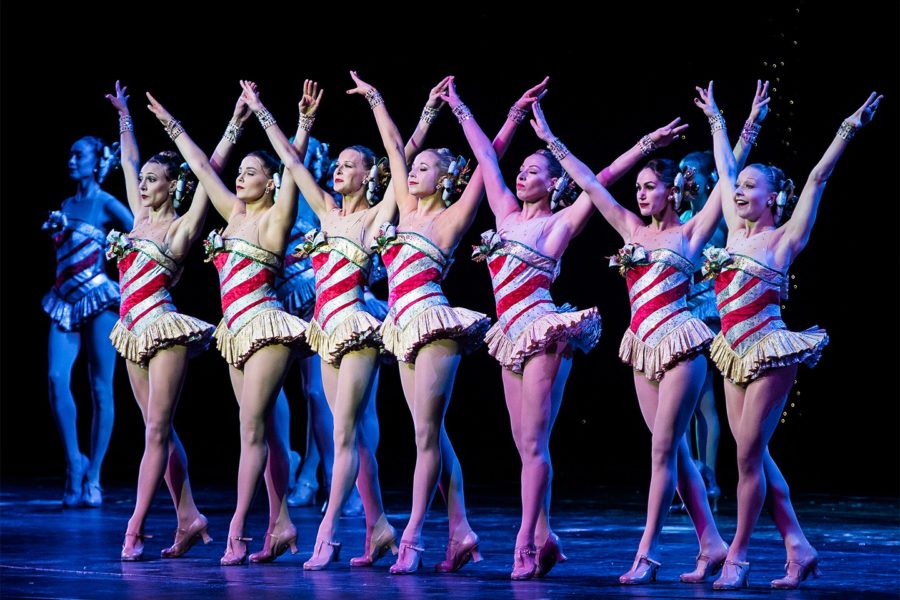 Another innovation was the sound system. Radio City wasn't satisfied that the audience was hearing the Rockettes' pre-recorded taps; they wanted the real thing. The company wouldn't settle for the dancers to wear wired microphones and belt packs; they were too bulky, and slowed down costume changes. So they challenged the best engineers to come up with a solution. Today, when the Rockettes are doing a tap number during the Christmas Spectacular, they wear custom dance shoes that have a special cavity within the heel for a sound transmitter, so what the audience hears is the actual rhythmic tapping of 72 feet.
When the Rockettes appeared in the Christmas Spectacular at the newly re-opened Radio City in 1999, one of the new numbers featured Santa Claus and his workshop. Greg Barnes, the Tony Award-winning designer who's known for his costumes for Follies, Flower Drum Song and the revival of Bye Bye Birdie, created many outfits for the Rockettes, but perhaps his most memorable idea was to dress them as reindeer, complete with antlers.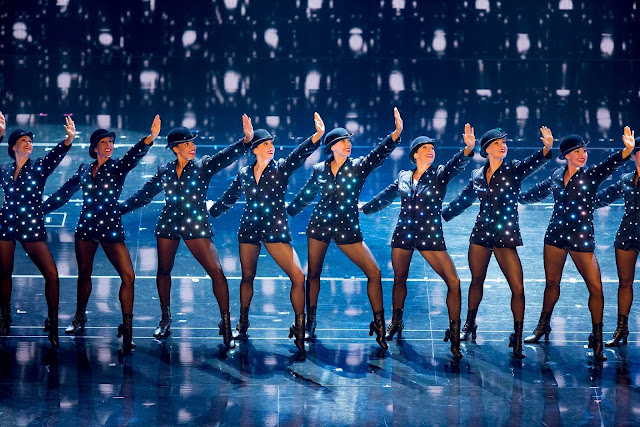 At every performance, when they pranced on stage pulling Santa's sled, they brought down the house.
Radio City Music Hall marked the 75th Anniversary of the Rockettes, with around 2,500 women having shared in the legacy by performing as a Radio City Rockette.
In 2001, the Rockettes were invited to perform at 43rd president of the United States George W. Bush's inauguration in Washington D.C., where they danced their way down the steps of the Lincoln Memorial. In 2005, the Rockettes performed their second presidential inauguration.
Linda Haberman became the first woman named solo director and choreographer for the Rockettes in 2006. Trained at the School of American Ballet, Haberman was in the original cast of Bob Fosse's Dancin', then went on to become his assistant choreographer. Her vision for the Rockettes was to transform them into a contemporary dance company. Haberman's amazing choreography brought the troupe to new heights, and demanded superb dance technique as well as true athleticism.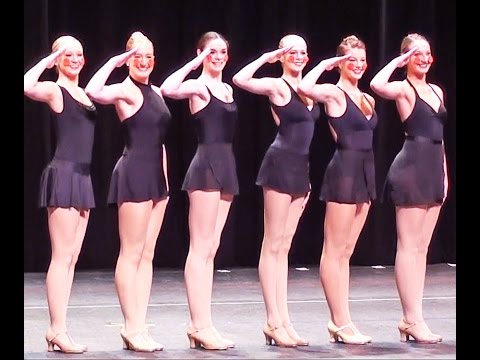 On the Radio City stage, her productions combined dance with the ground-breaking technology and called for the Rockettes to interact with 3D effects. For the "New York at Christmas" number, Haberman put the Rockettes on a full-scale double-decker bus, which moved in sync with images of the city projected on the 90-foot LED screen.
Haberman created the first touring productions of the Christmas Spectacular, which visited more than 80 cities in the United States during their time. The tour ended after the 2014 season, as new approaches were explored to best showcase the Christmas Spectacular and the Rockettes.
This decade saw an important new Rockettes dance education program: The Rockettes Summer Intensive, which offers aspiring professional dancers the unique opportunity to train with the Rockettes and learn their world-famous precision dance technique. More than 1,000 young dancers from across the country audition each year. Those who are accepted spend a week in New York, where they rehearse and learn the Rockettes' disciplines and dance routines.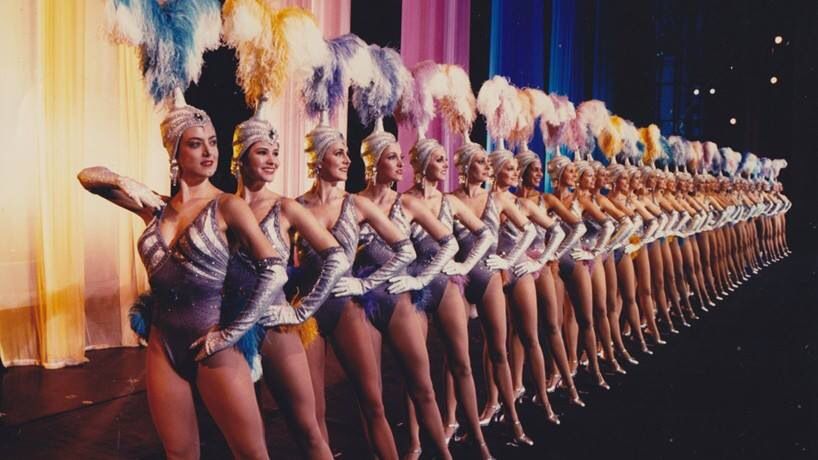 To date, more than 60 Rockettes have come from this training program.
Since the 1990s, the Rockettes have only performed at Radio City Music Hall from November to January in the Christmas Spectacular. However, that changed in Spring 2015 when the Rockettes starred in a new eight-week production, The New York Spring Spectacular, alongside Tony Award-winner Laura Benanti and Dancing with the Stars' Derek Hough.
In June 2016, the Rockettes performed on the Great Stage to celebrate New York City in The New York Spectacular. Centered around the trip of a lifetime for two kids, who, while on a vacation in New York, are separated from their parents, the city magically comes to life to show them its many splendid wonders.
The Rockettes have been busier and more in the public eye than ever. They have performed on the Great Stage with Oprah, Heidi Klum, Michael Bublé, and have made numerous appearances on The TODAY Show, The Chew, The Late Show with Stephen Colbert, Project Runway (a costume was designed during a special Rockettes-themed episode by finalist Christopher Palu!) and America's Got Talent (2013, 2014 and 2015!).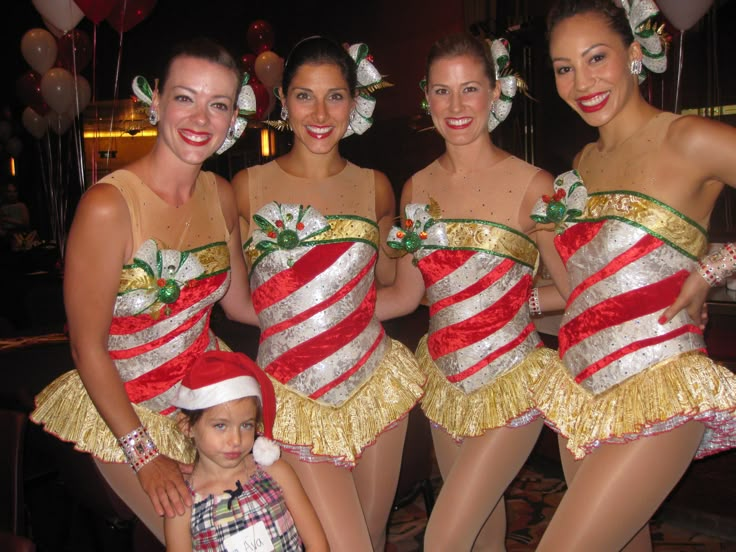 From the moment they first appeared in 1925, the Rockettes have been American icons. They are symbols of what you can achieve if you move with passion, dream big, work hard and most importantly, believe in yourself.
Here's How Much Rockettes Get Paid to Kick 1,200 Times a Day
Here's How Much Rockettes Get Paid to Kick 1,200 Times a Day Search iconA magnifying glass. It indicates, "Click to perform a search". Insider logoThe word "Insider".
Careers Contributors
Alicia Bodine,
GOBankingRates
2017-12-04T22:58:24Z
Save Article IconA bookmarkShare iconAn curved arrow pointing right.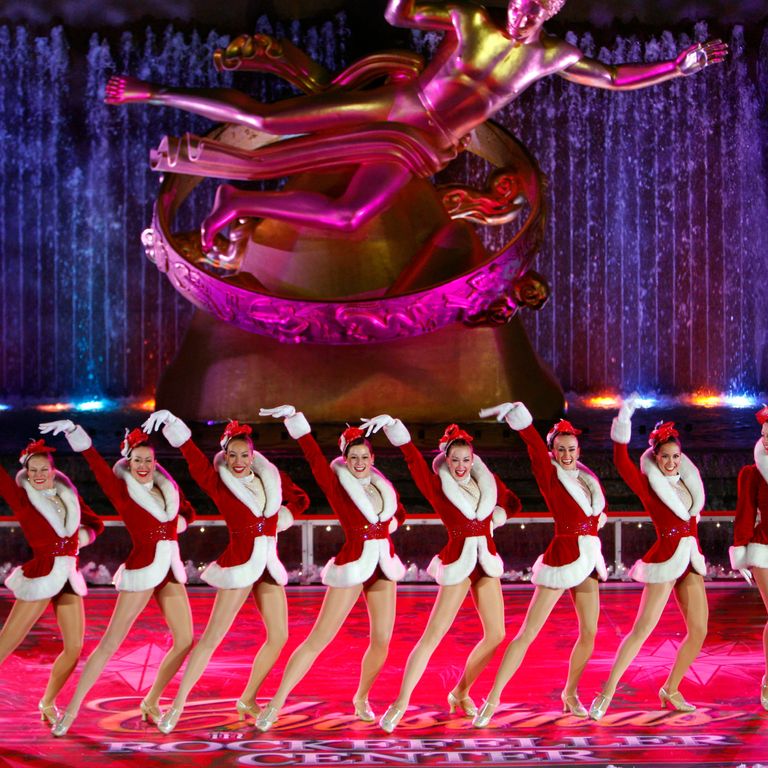 Download the app
Drew Angerer/Getty Images
The Rockettes — dancers that perform in the Radio City Christmas Spectacular in New York — are contracted by the American Guild of Variety Artists, for September through January.
To be cast, they have to be between 5-foot and six-inches, and 5-foot 10-inches, and know tap, jazz, and ballet.
Rockettes do their own makeup, change costumes in under 78 seconds, and kick up to 1,200 times each day.
Typically, they're paid between $1,400 and $1,500 each week — but since the work is seasonal, this comes out to $36,400 to $39,000 per year.

The Rockettes have captivated audiences for decades with their perfectly synced leg kicks in the Radio City Christmas Spectacular. These stars of the stage work countless hours to get their audiences into the spirit of the season.
You might wonder if the salary to be a Rockette is worth the hours and hours of hard practice. Being a Rockette is more than just a job — it means being among the select few dancers who have been part of this time-honored Christmas tradition. Read on to find out how much the Radio City Rockettes earn for sharing their talents.
What is a Rockette?
Just a year after moving to Radio City Music Hall, the Rockettes starred in the Radio City Christmas Spectacular, which in those days had a running time of only 30 minutes. Over time this show evolved into the 90-minute full holiday-themed theatrical production it is today. The dance troupe pays homage to the Rockettes of yesteryear by performing the original Rockette numbers "Parade of the Wooden Soldiers" and the "Living Nativity.
" To date, over 3,000 Rockettes have taken part in this show with 75 million ticket holders filling seats since the Christmas Spectacular began 1933.
How much do Rockettes make?
According to Rockettes.com, dancers are union workers who receive their contracts from the American Guild of Variety Artists. Each contract might begin in late September and conclude in early January, depending on the role the dancer is cast in. Although each of the Rockettes receives a benefits package, these performers are not provided with housing or reimbursed for any travel-related expenses.
Typically, each Rockette receives a paycheck of between $1,400 and $1,500 each week. Because these famous dancers only perform seasonally, this only amounts to between $36,400 to $39,000 per year. The Rockettes do receive their benefits year-round, though. During the off-season, many of the dancers opt to teach fitness or dance classes or join smaller shows for additional income.
Are the Rockettes required to complete any training?
For each show, there are a total of 36 Rockettes who perform on the stage at one time with four extras — referred to as "swings" — who are trained to fill in for some of the women on the line.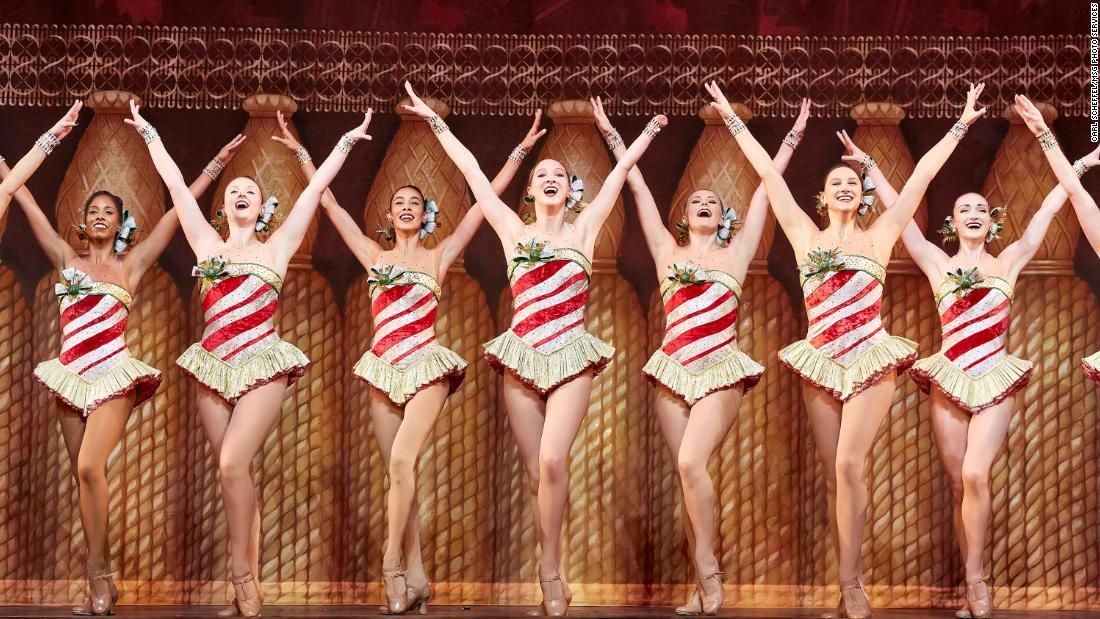 The dance troupe has separate morning and afternoon casts, which bring the Rockette total to 80 women. To be selected to join this prestigious dance troupe, women must meet strict criteria including reaching between 5 feet 6 inches and 5 feet 10 and a half inches in height, and already being well versed in the arts of ballet, tap and jazz.
The Rockettes rehearse. Rob Kim/Getty Images
Anyone interested in learning what it takes to be a Rockette can attend the Rockettes Summer Intensive Dance Program. This program is not a requirement for landing a job as a Rockette, but it is a great way to see how these how these advanced level dancers train.
The Rockette Intensive Dance Program is scheduled during the troupe's off-season and is designed to train dancers in the Rockettes style. Dancers in the program spend six hours each day over the course of one week learning the Rockettes choreography. Afterward, participants are welcome to stay for a one-hour seminar on one of the following topics: professional make-up, injury prevention, or health and wellness. Over the past 16 seasons, this program has produced 60 Rockettes.
Once hired, the Rockettes move right into training with months of rehearsals and training on how to do their own hair and makeup. Rockettes must also learn to change costumes in under 78 seconds, kick up to 1,200 times each day, and line up in a way that gives the illusion the dancers are all the same height.
What are the Radio City Music Hall ticket prices like?
Tickets are sold at the Radio City Music Hall Box Office, which is found on Sixth Avenue near the corner of 50th Street. If you can't make it to the box office, you can also order tickets online through Ticketmaster.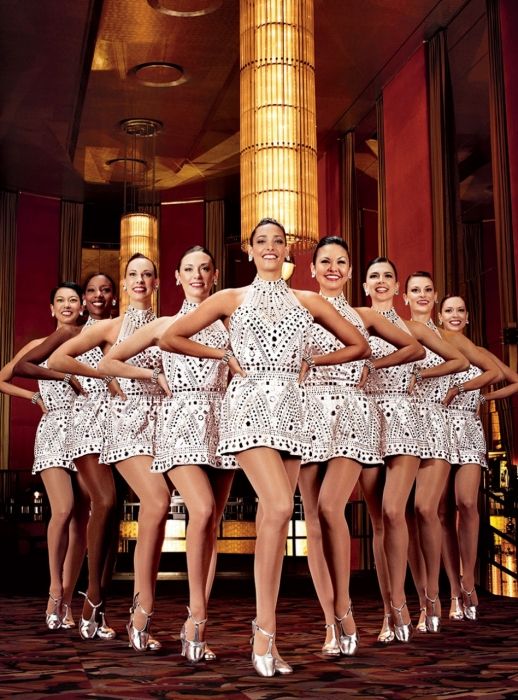 Prices vary by date; for example, you can expect to pay between $45 and $150 per person for a ticket during the month of November, but tickets closer to Christmas fall in the range of $65 and $220. The price includes a facility surcharge of $6, which is used to help pay for the cost of running the box office. All tickets to see the Radio City Christmas Spectacular are non-refundable, so double-check that you are available to see the show before you commit to a specific date and time.
Parents are not required to purchase a ticket for children under the age of two, so long as the little one can sit on your lap during the show. Students are eligible for a discount to select shows when they use the code TIX4STUDENTS. If you can to see the show with you, you'll also be able to take advantage of reduced rates. Finally, you might wish to sign up for the Rockettes' regular newsletter, as they occasionally send out special offers.
Alicia Bodine
Read the original article on GOBankingRates.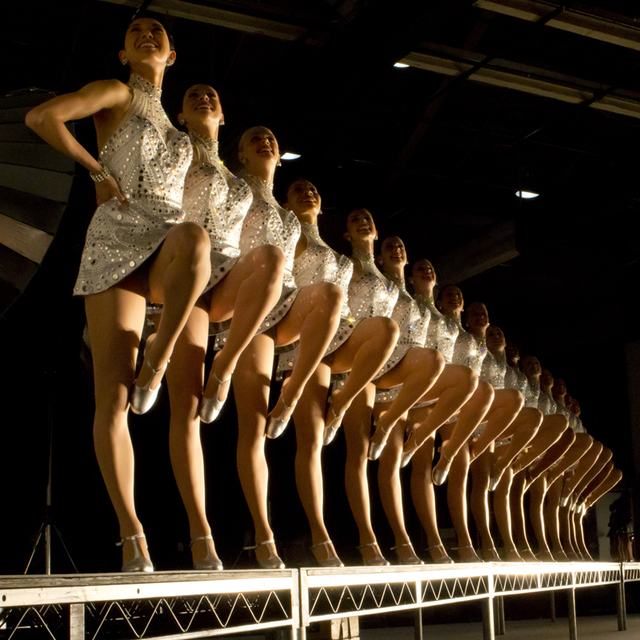 Copyright 2017. Follow GOBankingRates on Twitter.
Read next
LoadingSomething is loading.
Thanks for signing up!
Access your favorite topics in a personalized feed while you're on the go.
Rockettes Holidays GoBankingRates
More.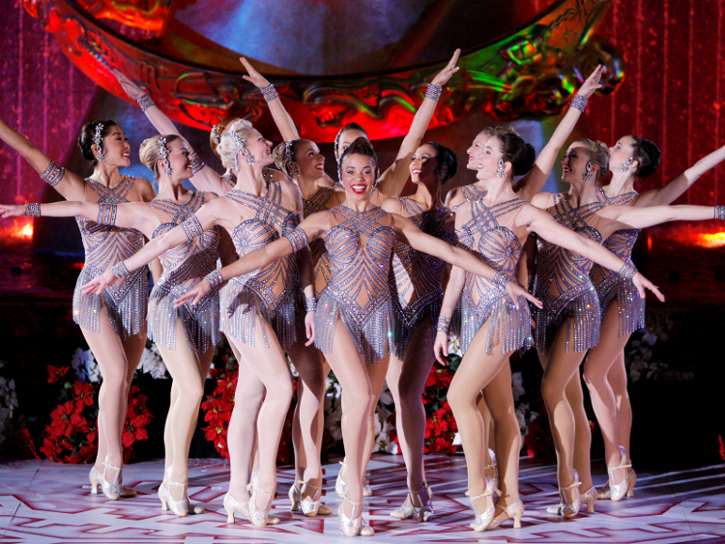 ..
"I like that I stand out." Men dance in heels on Russian TV
Anastasia Anisimova
for BBC
Image copyright, Instagram Igor Kotov
The appearance of men in heels in a dance show on Russian television surprised not only the audience, but also professional judges. At the same time, in the West, fashion in traditionally female dance directions today is largely set by men in heels.
Anton Lushichev came to the audition for the TV project "Dancing on TNT" wearing high heels. Upon entering the stage, he immediately aroused surprise not only among the audience, but also among the judges, most of whom are professional choreographers:
- Streep?
- Yes
- Come on?!
The dance direction called strip or strip plastic, so often chosen for listening by those who want to take part in the TNT project, has become something familiar in four seasons.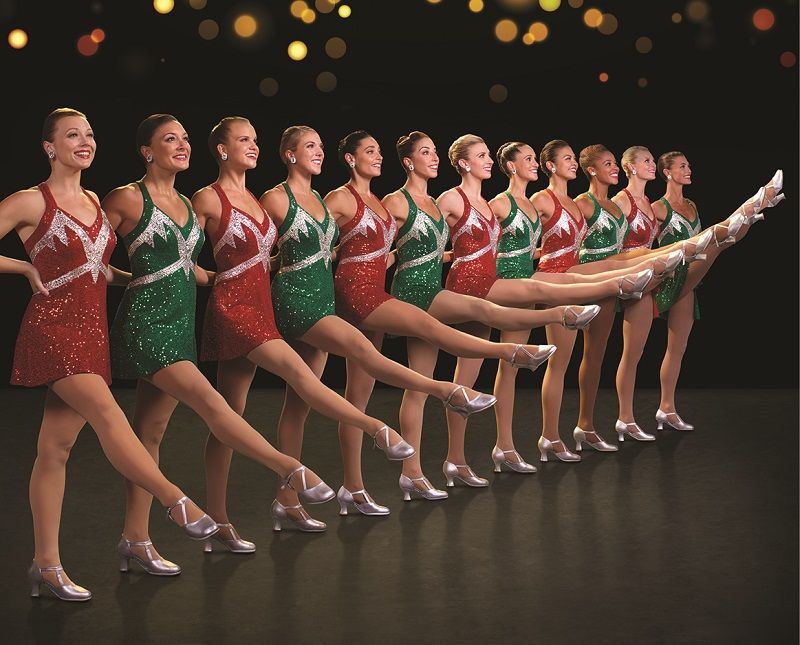 But not in the case when this style is performed by a man.
"I like that I stand out"
At the audition, Anton had to not only dance, but also answer questions that were never asked to the female contestants who came to the show with the same style:
- Why did you choose this style? Why do you like him?
- I like that the strip can be different. I like that I'm in heels. I like that I stand out.
After the dance, the judges began to discuss not so much the performance of the dancer as the appropriateness of the man choosing this direction. At the same time, all the judges noted that Anton danced perfectly.
"You came in high heels and danced very well. It's cool. But I want to see a man even dancing. It's uncomfortable for me to look at such a performance in a man's guise," said TV presenter Olga Buzova, who sat on the jury.
Dancing without music? The story of the deaf dancer Andrey Dragunov
"I can't afford to do bad things": the story of a girl who became a ballerina at the age of 30 high heels in Russia is difficult: "When I just started dancing, when I just bought myself heels and went to my first St. Petersburg championship, half of the people in the hall simply did not understand what was happening. And the reaction was very negative. Now they began to treat me softer, but initially it was trash. You walk down the hallway and everyone is looking at you with huge eyes."

Universal dancer

Anton is not the only man who came to audition for the dance project in heels.

Igor Kotov's performance also surprised the judges, while all the jury members admitted that he also danced the strip choreography perfectly, performing difficult tricks and acrobatic elements.

Skip the Podcast and continue reading.

Podcast

What was that?

We quickly, simply and clearly explain what happened, why it's important and what's next.

episodes

The end of the story Podcast

If for Anton dancing in high heels is a provocation, an opportunity to stand out and make himself known, for Igor it is a skill that will make him a versatile dancer.

"I started dancing classical as a child, then I switched to modern choreography, hip-hop, jazz-funk. I am a universal dancer, I dance including the strip. Initially, the strip was created for girls. And there is an absolutely erroneous opinion that this is about how to spin on poles and undress, although this is not at all the same. It is the same style of dance as hip-hop. Only it has its own characteristics. A real dancer must dance both female choreography and male choreography. There is nothing wrong with me in I don't see it," Igor said in a TV show.

Igor, like Anton, admits that high-heeled dancers have to face discrimination in Russia: "We have very few boys who dance the strip. style".

Strip for everyone

In Russia, strip plastic performed by men causes mixed feelings even among those choreographers who are engaged in this direction.

Anastasia Yurasova, founder of the Frame Up Strip style, told the BBC Russian Service: "How do I feel about guys dancing the strip in heels? Personally, I don't really like it. And I think that every man should be a man. I am not in favor of this."

At the same time, she noted that there are dancers who deserve to dance in heels: "If we are talking about dancers like Igor and Anton, then for me they do not look like a woman. Despite the fact that they wear heels, they have masculine energy and what they do does not look vulgar. They have a chic performance technique, "says Anastasia Yurasova.

In her opinion, the audience in Russia is not ready to accept a male dancer in heels.

Social media reacted differently to men wearing heels. Among the many negative reviews, there were those who supported the dancers and wrote: "Strip for everyone." Moreover, many users wondered why a woman who dances male style well in Russia will always receive public approval, when a man with a style that is traditionally considered feminine will most often be ridiculed.

Image copyright Twitter

Better than a woman's performance?

A man dancing in heels is hardly surprising among choreographers in the US and Europe.

"Today it's really one of the trends in dance culture. We see more and more men among students and teachers of dance styles that used to be considered female," says Tamara Kramer, director of the Studio 68 dance school in London.

Male dancers in the West not only dance in high heels, they create it.

One of the most famous dancers in this direction is the American Zhonte.

"When he first appeared, it was a real explosion in dancing. Everyone asked - God, who is it, how does he do it, everyone wanted to copy him and still want to," says Kramer.

According to her, Zhonte's solo performances in high heels are an inspiration for dancers and dancers all over the world.

After graduating from ballet school in Oregon and working as a dancer for Janet Jackson, Jonté began collaborating with the stars as a choreographer. He directed Beyoncé's The Beyonce Experience tour and many of Beyoncé's music videos, including her hit Freakum Dress video.

Another famous dancer in high heels is the Frenchman Janis Marshall.

In 2014 he was a finalist in the television competition Britain's Got Talent. "Janis became a prominent figure in dance back in 2010, but his participation in this TV project opened up heeled dancers to a wide audience in the UK and changed the perception of them in many ways - they began to be taken seriously, dancers in heels," - says British choreographer Richard Marcel.

"That was ten times better than any woman who came on this stage today. Fantastic!" - the judges told him after his first performance at the competition.

In 2015 Janis choreographed for Cirque du Soleil in Las Vegas. According to viewers, it was perhaps the sexiest performance on the show in its history.

"To say that a man cannot dance in heels is to discriminate against dancers. If you like to dance in heels, why should you stop yourself?" says Tamara Kramer.

According to her, dancing in high heels performed by men and women differs in many ways: "These are different approaches even in teaching. When a man teaches choreography in high heels, he most often draws the attention of students to the fact that this is a show and outrageous. When a woman teaches heel dancing, she talks about confidence and sexiness."

"Don't forget that a man in heels must, of course, work a little harder than a woman. Keeping a balance for them can be more difficult. And people who don't dance and criticize it just don't understand how difficult it is" .

CHU ROCKET DANCE CENTER, Nizhny Novgorod (TIN 5257985782), details, extract from the Unified State Register of Legal Entities, address, mail, website, telephone, financial indicators

Refresh browser

Refresh browser

Capabilities

Integration

About the system

Statistics

Contacts

CfDJ8No4r7_PxytLmCxRl2AprPrHaVhG0wY62z-lrQ9BtkcI3iYzdH-rZTtpYtgVac1HXrS4BVvkDQ3aQpVCMY7jxtyp-6gy97nLuQhM1x65SQVIXal1JLrdGSjIpxIpxUhrPJqE6

Description of the search engine

search encyclopedia

TIN

OGRN

Sanction lists

Company search

Head of the organization

Court cases

Affiliation Check

Execution proceedings

Organization details

Information about the beneficiaries

Organization's current account

Credit risk assessment

Checking the blocking of the current account

Number of employees

Authorized capital of the organization

Bankruptcy check

Date of registration

Checking the counterparty by TIN

checkpoint

OKPO

Tenders and public procurement

Legal address

Analysis of the financial condition

Organization founders

Financial statements

OKTMO

OKVED

Company Comparison

License check

Extract from the Unified State Register of Legal Entities

Competitor analysis

Organization website

OKOPF

Registration Information

OKFS

Branches and representative offices

OKOGU

OKATO

Register of dishonest suppliers

Company rating

Check yourself and the counterparty

due diligence

Banking licenses

Scoring of counterparties

Alcohol licenses

Media monitoring

Signs of economic activity

Reputational risks

Compliance

Company CHU DANCE CENTER ROCKET, address: Nizhny Novgorod region, g. o. city ​​of Nizhny Novgorod, Nizhny Novgorod, July Days st., 21/96, apt. 45 was registered on 01/22/2014. The organization was assigned TIN 5257985782, OGRN 1145200000175, KPP 525801001. The main activity is education in the field of culture, in total 8 types of activity are registered according to OKVED. There are no connections with other companies.
Number of co-owners (according to the Unified State Register of Legal Entities): 1, director - Vereshchagina Natalya Andreevna.
CHU ROCKET DANCE CENTER did not take part in tenders. 1 enforcement proceedings were initiated against the company. CHU ROCKET DANCE CENTER did not participate in arbitration cases.
Requisites of CHU ROCKET DANCE CENTER, legal address, official website and extract from the Unified State Register of Legal Entities are available in the SPARK system (demo access is free).

Full verification of counterparties in SPARK

Unpaid debts
Arbitration cases
Communications
Reorganizations and bankruptcy
Other risk factors

Full information about the company CHU DANCE CENTER ROCKET

299₽

Company registration data
Manager and principal owners
Contact information
Risk factors
Signs of economic activity
Key financial indicators in dynamics
Check according to the registers of the Federal Tax Service

Buy Example

999₽

Yearly change monitoring enabled

Company registration data
History of changes in managers, names, addresses
Complete list of addresses, phone numbers, websites
Data on co-owners from various sources
Related companies
Activity details
Financial statements for several years
Financial assessment

Buy Example

Is free

Complete information report - SPARK PROFILE
Adding contact information: phone, website, mail
Adding a description of the company's activities
Download logo
Loading documents

Edit data

SPARK-Risks for 1C

Reliability assessment and monitoring of counterparties

Learn more

Application for demo access

Applications with corporate email are processed faster.