How to do cool dance moves with your feet
7 Tips That Will Take Your Footwork To The Next Level
Footwork is ESSENTIAL when you dance!
If you're not moving your feet, then you're not utilizing your whole body to create a complete movement!
Keone, Bam, and Lyle can show you just how effective footwork can be – ON ITS OWN:
So how do we train our feet and legs to take our freestyle and choreography to the next level?
Or even just to move 'em naturally so we don't look so stiff?!
We've got 7 training tips that you should start doing today to take you from footwork.. to foot-werrrrk.
1. Know where your weight is
Let's start with the basics – stabilizing your balance.
To do this, feel how your weight is distributed through each move.
For example, if you have to lift your left foot up, then most of your weight should be on your right foot.
Maintain a sturdy base the next time you dance and you'll notice how much more controlled your bottom half is!
Play around with different positions, whether it's on one foot or both, so you get comfortable with where your weight is and how to shift between them.
See Related Article: Want To Dance With More Control? Read THIS.
2. Stay on the balls of your feet
When we asked Carlo Darang for tips for his fast-moving pieces, here's what he had to share.
"Always try to be light-footed and ready to move from one part of the floor to another!
If you dance on your toes and heels and not set everything your entire foot, then it's kind of like jump-roping – you'll be ready to jump from one place to another.
This skill is like a triple-threat for basketball players, or even your ready stance for football players… for us dancers, it's the same thing, same idea – be in a position where it's easy for you to go anywhere."
So when you're dancing, don't always be flat footed! Being on the balls of your feet will help you spring and rebound off the floor much more easily.
Watch him in action in his STEEZY Studio class!
Thanks for the tips, Carlo!
See Related Article: How To Execute Choreography Better By Utilizing Your Body With Carlo Darang
3. Take it high and low
Footwork doesn't just involve your FEET.
You can utilize your LEGS to can take your body to different levels and make your changes look more drastic.
Bend your knees to dip it low (cue Christina Milian~) and releve to reach up high.
The more burn you feel in your thighs and calves, the more dynamic your dancing is. Just kidding.
But do incorporate high and low levels to jazz up your dancing!
4. Don't be afraid of the floor
I'm one of those people that groan when the choreographer says "there's a little bit of floorwork.."
But once I do it, I realize how awesome it is.
For starters, it trains your athleticism by taking your body out of its comfort zone of being upright.
Second, it makes the piece look so much more dynamic because that whole level change to get to the floor is a chance to do something cool.
And lastly, working with the floor opens up a whole new door for creative choreography concepts!
You can use your hands to trace things on the floor, lay down flat and do some synchronized-swimming-esque leg movements, swivel around on your knees.
It's like having a dance partner to work off of – except your partner is flat and unmoving.
For inspiration, check out how Chris Martin plays with the floor in his STEEZY Studio piece:
5. Travel!
Using your legs means that you can MOOOOVE.
Like literally. Move across the floor.
Get out of your box and use steps to travel! It'll add another dimension to your dancing and bring the audience along with you for the ride.
When you're choreographing, try challenging yourself for a segment to come up with a way to dance from point A to point B maybe 10 feet away.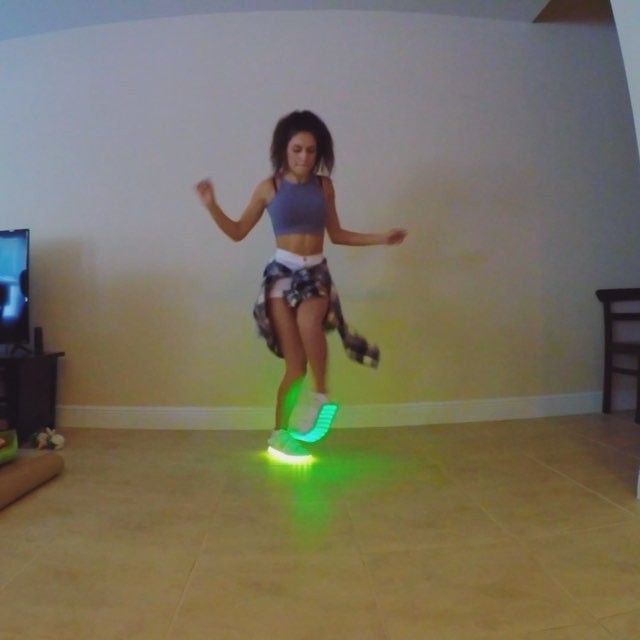 When you freestyle and feel yourself repeating the same steps you can utilize those same steps but change them in direction to travel!
6. Drill steps
Drill steps that you find in footwork-heavy styles like House and B-boying.
A big key here is repetition.
If you do the loose leg or 6-step a zillion times, then your feet are going to become conditioned to move in those combinations without you even trying.
This will also allow you to be more creative with variations of those steps!
So when you encounter a tricky step or piece of footwork, don't just get through it but master it so you'll be ready for next time.
7. Polish your turns
A sloppy turn can totally ruin the flow of a piece. You don't want to clumsily jump out of a turn!
Here are some tips to make your turns clean:
Engage your core musclesImagine a line from the ceiling to your head, to your toes, to the floor.
You want to stay in that alignment as you visualize your turn – Plie for leverage, Spot!
TURN UP your piece or freestyle with some clean ass turns!
Same as any other step, turns just take a lot of repetition to master.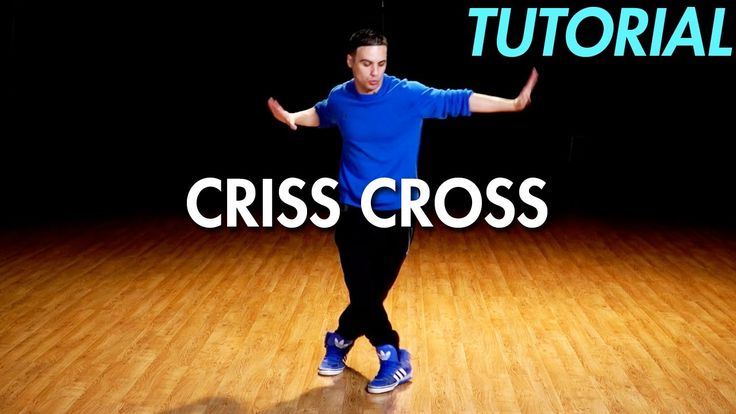 See Related Article: The Class You Need To Unlock Your Dancer Potential
Ready to get those feet moving? Comment below with something that helps you with your footwork!
We recommend Ray Basa, Julian Sena, Carlo Darang, or Paul Ross' classes on STEEZY Studio to train for quicker, more dynamic footwork.
Happy (feet) learning!
Happy Feet dance move - Hip Hop dancing lessons
Learn the happy feet dance move below:

More hip hop dance moves
[Transcript]
Hey, what's up guys! This is Sean. Welcome to Learntodance.com. I'm going to show you the happy feet dance move. OK?
So from here, we're going to start like this. Five, six, seven, eight.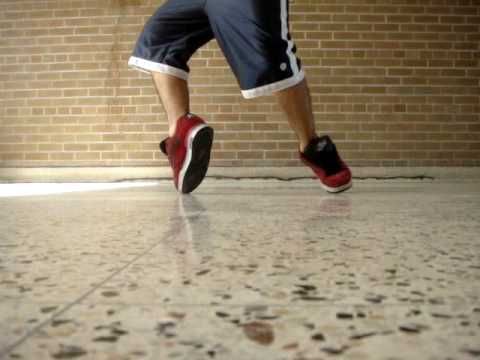 One, two, three, four, five, six, seven, eight. OK?
From another angle. We go, five, six, seven, eight. One, two, three, four and five, six, seven and eight. And happy feet. OK? Let's break it down.
So this move as you can see is a little bit more athletic, so you want to make sure you have the basic idea first before you start putting a lot of energy into it. So let's start with the basics.
You're going to start with your feet together and you're going to think that you want to pivot this way on your right heel like this. Your toes lift off the ground. You don't want to keep your toes here. You want to keep your toes up. Pivot. So it's nice and easy.
At the same time, you're going to do the opposite. You're going to keep the toe of your left foot on the floor. Your heel is going to go out this way. And down.
So if you're to do it at the same time, this toe comes up. This heel goes out. It looks like this. It opens. And then it closes again. You can repeat that on the other side.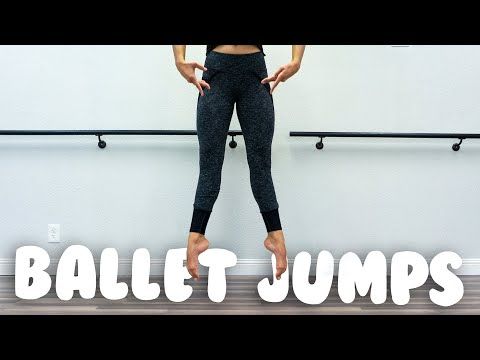 Your left toe comes up. Your right heel goes out. Up and down.
So if you're to do that back and forth, that's probably the best way to get the feel of this move. Just pivoting one and two and three and four and just like that. If I was to face the back, from here, and again, like feet together is probably the easiest way to start. You could start like this and also go out. Let's keep it basic to start.
So again, same pivot. My right toe is going to go up. At the same time, my left heel is going to go up. I'm pivoting on my toe. It comes back down. I go to the left side, here, and down. So going back and forth, five, six, seven, eight. I pivot one and two and three and four and OK? I know I should have kept my feet together. I kept them apart there but you can see that it would work here or here.
So that's the beginning. Now, let's add the forward part of this. So we go side to side, one, two and you're going to hop on to your heels. Pretend there's like a chasm and you're running up and you realized you don't want to fall into it.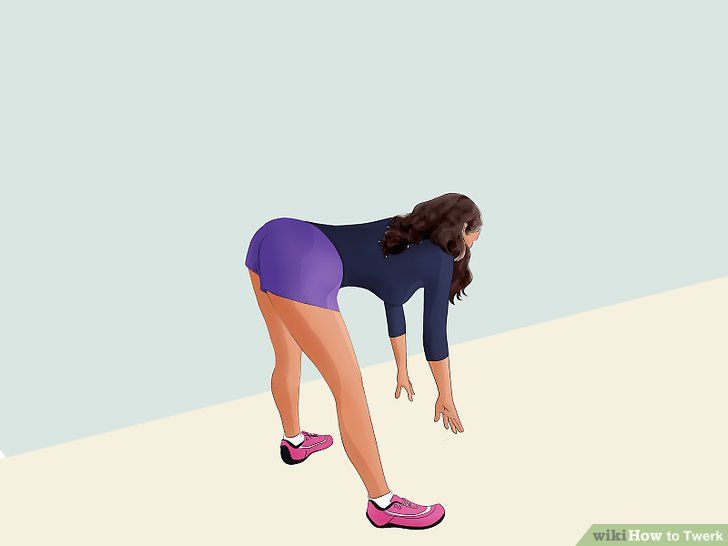 So that's kind of the look you want to give. If I was going this way, kind of looks like this. So my body comes a little bit forward to keep my balance and then I hop back on to my toes.
So you're going to hop forward on to your heels. You come back. You're going to hop forward again on your toes and your heels come out and then back. OK?
So going forward, the two parts are heels, back, toes, back. OK? If I did the side to side and the forward part, it's going to look like this. I go, one and two and three and four and OK?
Let's try it from the back, another angle. The same thing. Five, six, seven, we're going to go this way. One and two and heels back toes back. OK?
The last part of this, really simple, it's just going to be some hands. That way, you don't feel too, again, too stiff. When you go to the side, just like if you were kind of, I don't know, like running this way. OK? So when your right foot goes out, your right hand is going to come up like you're making muscle.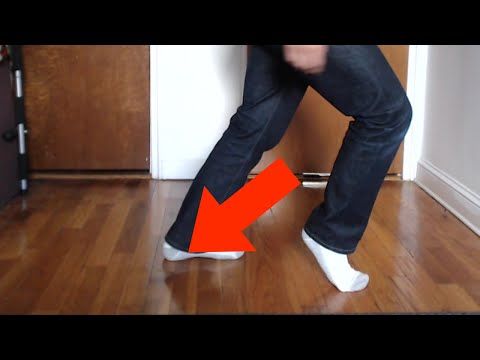 Left hand is going to go back like this. It's going to come back to the center. And you're going to repeat on the other side.
When you go forward, this is where we said kind of bring your hands out like you're going to fall. When you bring your toes forward, bring your hands back behind you. Kind of like you're pushing your hips here. Boom! Boom! OK? So putting all four of those together. Let's start here. Five, six, seven eight. One, two, three, four, five, six, seven, eight. OK?
From the side so you can kind of see what my forward motions looks like. Five, six, seven, eight. It goes one and two and three and four, five, six, seven, eight. OK?
We'll do it from the back. When you go side to side, last thing, I'll do it and you can see. You can keep it simple with pivoting or if you're a little more energetic, you can hop into it. OK? It makes you a little bit bigger and more fun to watch. But you can do it either way.
From the back, we're going to go side, side, forward, toes.
Five, six, seven, eight. We go one, two, heels, toes, five, six, seven, eight. And that's the happy feet.
[End of transcript]
How to learn to dance shuffle - Lifehacker
December 15, 2019LikbezSports and Fitness
Master the basic movements, and then improvise and get high.
Iya Zorina
Author of Lifehacker, athlete, CCM
Share
0
This dance style includes a lot of freedom and improvisation. That is why he is so good. You can master the basic movements in a couple of hours, and then complicate them to infinity and combine them with each other, create your own combinations and spy on others.
Dance in sneakers, socks or barefoot, in any outfit, anywhere.
Master the basic movements of the shuffle
In this style, you do all the basic movements with your feet, your arms most often move freely - according to your heart.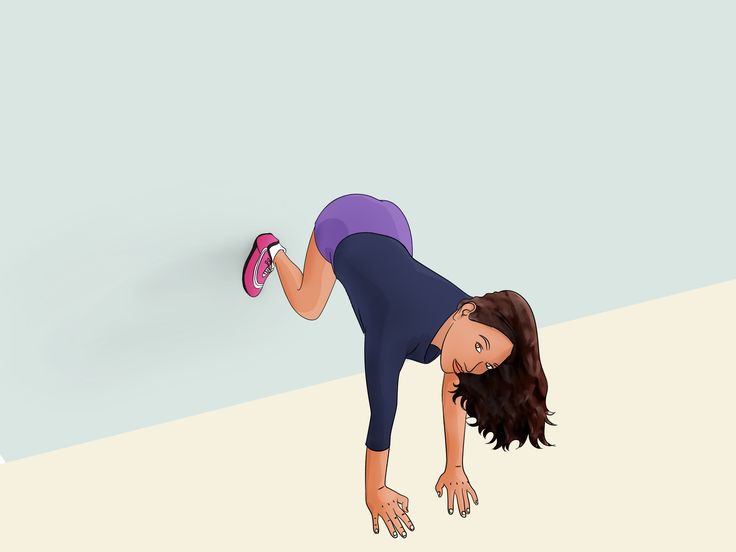 Running man
This is the most basic and essential shuffle movement. You can do it in three different ways.
Full foot
The movement begins by bending your knee and lifting one leg. Next, you need to simultaneously put both legs - supporting and raised - at a distance of one step from each other.
The raised leg is placed forward on a full foot, the standing one behind slips back on the ball of the foot and remains on it - the heel is not placed on the floor. The weight is evenly distributed between the two legs.
After that, it remains to return to the starting position. To do this, the front leg slides back, and at the same time, the back leg is pulled up. You find yourself in the starting position and repeat the cycle. The movement itself is soft and springy: do not stick into the floor, keep your legs relaxed.
Heel
This is a lighter and faster running man look that may be needed for some combinations. Here you put your foot not on the whole foot, but on the heel.
At the same time, the one standing behind remains on the toe.
On pads
In this variation, the foot is placed forward on the pad. At the same time, the one standing behind also remains on the ball of the foot, and the body leans slightly back.
T‑step
In this movement, one foot constantly makes a "herringbone" - turns the heel in and out - and the second touches the floor and immediately rises back.
When the heel of the skating leg turns inward, the toe of the other leg touches the floor; when outward, the other leg rises, turning the knee inward.
It turns out two positions: closed - when the legs are wrapped with the knees inward, and one leg is raised, and open - when the legs are turned out with the knees outward, and the toe touches the floor. Practice doing the T-step in both directions: slowly at first, then with acceleration.
Rocking
You jump on one foot, and the other touches the floor in different places: on the side of the supporting leg, across, behind - anywhere you want.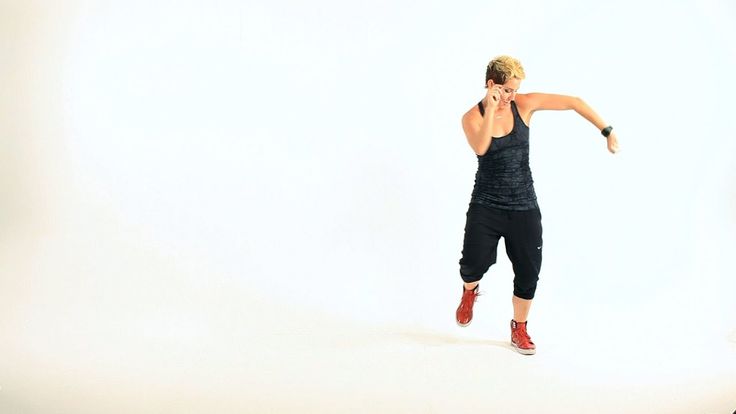 You can put your foot on the toe or on the heel - the latter is called a kick. The supporting leg can simply rise low or perform a T-step - move the heel out and in.
Charleston
To begin, you turn your knees and toes inward and lift one leg. Then turn your toes and knees outward, and put your raised leg forward crosswise. Repeat the same with the other leg.
All movement occurs on the balls of the feet, the heels do not fall to the floor. You can move both forward and backward.

Diamond
First you put your feet crosswise with your toes outward with a jump, then you also spread your legs apart with a jump.
Slides
One leg is straight, stands on the whole foot, the other is with a bent knee on the pad. Leaning on the pad, you slip the foot of a straight leg back, as if wiping the sole on the floor.
Immediately after the slip, you turn around. In the turn, the straight leg bends and goes to the pad, and the one that was on the pad, on the contrary, turns on the heel.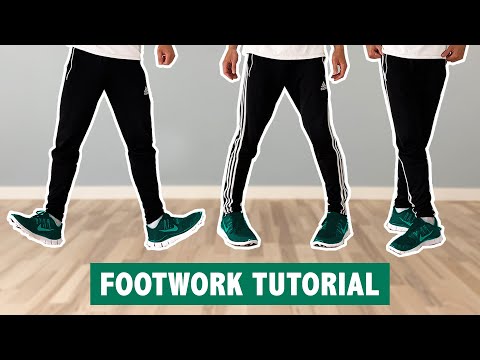 After that, it remains only to change legs and move in the same way in the other direction.
Scissors
From the starting position - standing with a raised leg, as in Running man - you turn your hips to the side with a jump and put your legs crosswise.
The front foot is on the heel, the back foot is on the ball. Then you jump back to the starting position and do the same on the other side.
Sidekick
From the starting position, you turn your hips to the side with a jump and spread your legs a step apart from each other. The standing foot in front is placed on the heel, the standing one behind remains on the pillow. Then, with a jump, you collect your legs and do the same on the other side.
Try other variations of the basic shuffle movements
You can perform the basic movements in different directions: forward and backward, turning around. This will give you more freedom to improvise.
Variations Running man
Do several times in place and then turn around.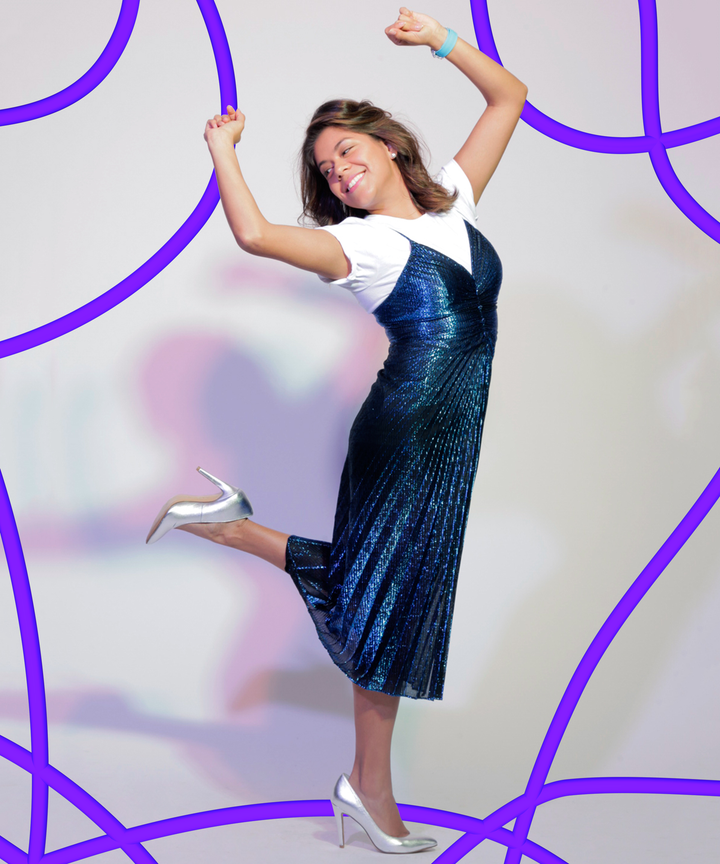 You can also try walking this way to the side. Each time the leg will need to be placed slightly crossed in order to slowly move to the side.
Variations T‑step
You can lower your foot on the toe, on the whole foot, touch the floor to the side of the supporting leg or forward and behind it.

You can also keep the other leg off the floor at all - leave it on the toe and turn the knee in and out.
Variations Diamond
Here one more element is added to the movement – ​​the heel strike. In the starting position, you wrap the toes of the feet and knees inward, and then jump on the heels, turning the socks to the sides.
From this position, without jumping, you turn your toes and knees inward, cross your legs with a jump, turning your feet with your toes outward, and then return to the starting position.
Charleston Variations
After three turns of the Charleston, turn both toes in one direction and then in the other.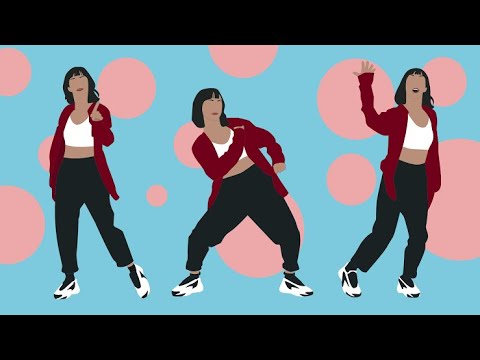 At the end, you can turn the knee to the side.
Connect familiar shuffle moves
While you lack the skills to move freely and come up with something of your own, learn a few combinations. They contain interesting movements that will replenish your dance vocabulary.
Combination 1
This is a simple combination of two basic movements - Running man and T-step. First take five Running man steps, then four T-steps to the side and repeat the same in the opposite direction.

Combination 2
Another combination of two basic movements. Here you do three Running mans, then one T‑step with a back foot touch, and two front heel touch kicks. The same on the other side.

Combination 3
There are no standard steps here, but there are already familiar Sidekick and transition from heels to toes.

Learn more difficult combinations
We will add some videos with good combinations.
1. Cool video for beginners: movements are repeated in slow motion to make it easier to dance to the music.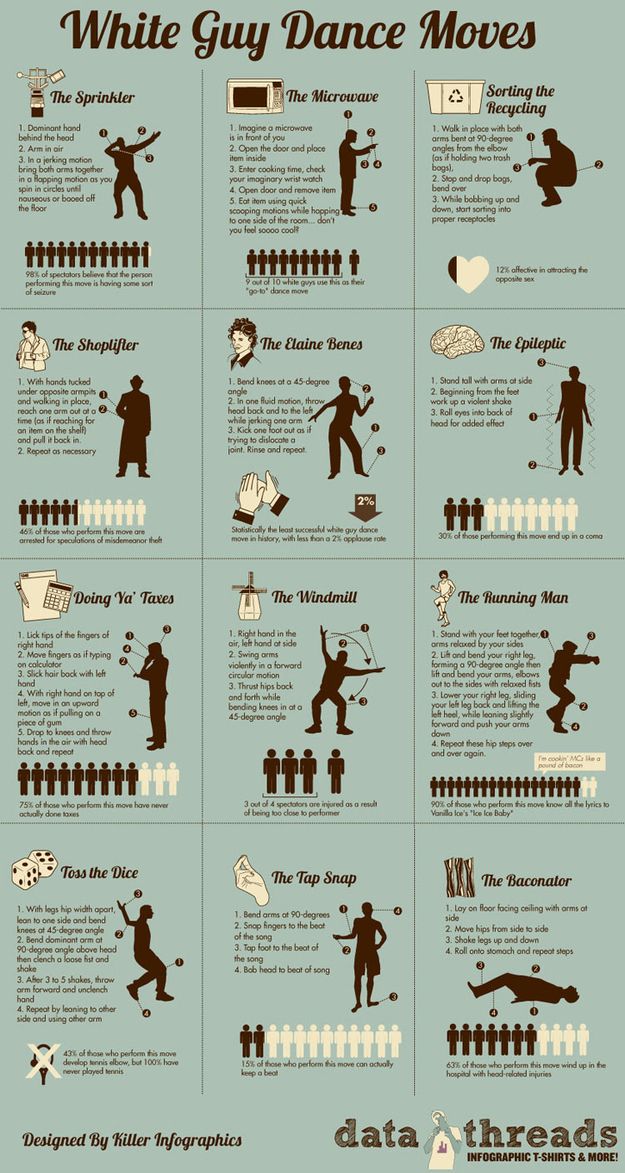 2. And here the combination is analyzed step by step in slow motion, dividing it into three parts. Very comfortably. Look for more on this channel, there are several such analyzes.
3. There is no slowdown here, just a great combination. But you already know almost all the movements, so you can figure it out. If something is not clear, watch the video at a speed of 0.25.
Pick up the music and improvise
Surely you have favorite songs to shuffle to. Include them and start with basic movements: just do the Running man and periodically add different elements when you want.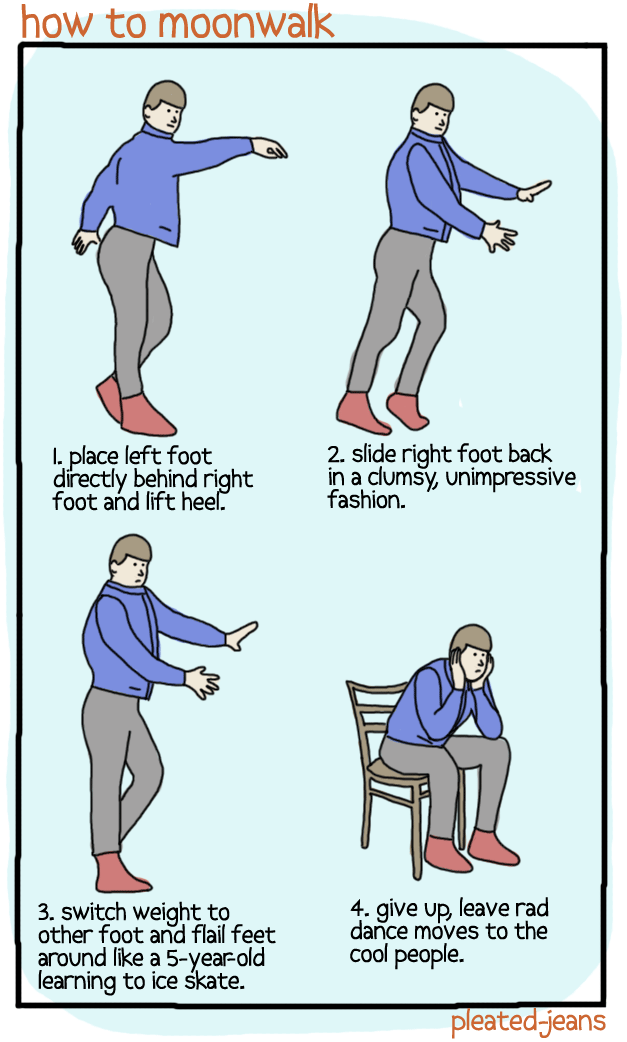 Move in different directions, relax and have fun.
If you don't have favorite tracks, try our selection.
I must say that the shuffle is an amazing cardio workout. In just a couple of tracks, you will be out of breath and sweat, like after a run, but you will feel absolutely happy!
What's more, if you have to force yourself to keep going while running, shuffle requires you to have the willpower to stop and not dance. As a bonus - a short video from a beginner after a couple of hours of practice.
Shuffle is cool!
Read also 🕺💃🤸‍♀️
Dancing as a sport: choosing the right direction
Dance and movement therapy: how to know and change yourself through movement
How to learn to dance: video lessons for those who are not afraid to try
How to learn street dancing without leaving home
Zumba is a fun way to lose weight for those who love dancing
*Activity of Meta Platforms Inc.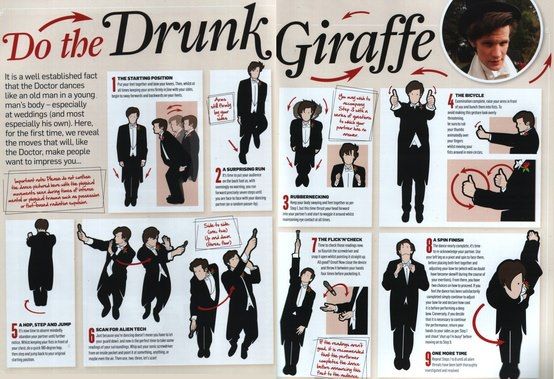 and its social networks Facebook and Instagram are prohibited in the territory of the Russian Federation.
12 life hacks to quickly learn how to dance from Mamita Dance
dances
Author: Pavel Collect
psychologist, salsa and tango teacher
dancing
Author: Pavel Sobiray
psychologist, salsa and tango teacher
At the start, you always want to get a quick result. When it doesn't happen, the hypothesis arises that everything takes time. After a conditionally acceptable time, humility comes to mastering pair dances, which, perhaps, is not given, and I will just do what I learned somehow.
This is the most common story of those who believe that the fact of attending pair dance classes is enough to learn how to dance.
Absolutely not. If you want to really dance well, you have to make an effort outside of the dance class. A good teacher will definitely be needed, but the initiative should be on your side.
1. Listen to music
The most common and accessible advice that is given already in the first lessons. And it definitely works. Music creates a certain atmosphere of the dance and intuitively you want to move to it. It doesn't matter where you listen to music - in the car, on headphones while walking or doing household chores.
An addition that will help you dance better is your active participation in the music. Sing along, dance or simply beat musical accents with any free parts of the body. In the subway, for example, it is enough to tap out bright moments with your fingers, in the car to sing along with sounds, and at home you can jump for pleasure.

2. Watch videos of good dancers

It's complicated, but also obvious. It's more difficult, because without recommendations from more experienced dancers, unfortunately, it's not so easy to find a good quality video on the net (I mean not the resolution quality, but the content itself).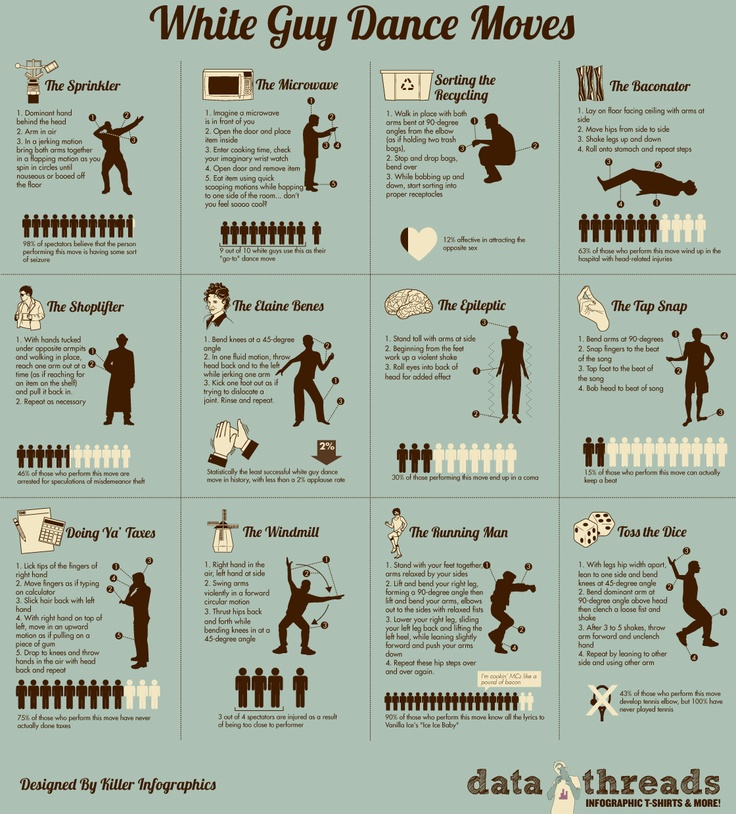 Meaningful video viewing is about building an understanding of HOW dancers make a particular impression on a partner or viewer. Technology is at the heart of everything. Understanding how the pros do it is a big step forward.
It is important to distinguish a show from a disco dance, a staged performance from an improvisation, a stylized dance from an authentic one, etc. Ask for recommendations and dance teachers will always throw off a couple of videos of worthy landmarks.

Tango Z. Showreel.

Online modern tango courses
Tango nuevo is the most advanced version of tango. We can quickly learn to dance from zero to a steep level.
3. Dance in salsatecas/milongas/discotheques
A very delicate moment when it is worth coming to the first party. From a technical point of view, most students in 1-3 months have a sufficient set of figures and techniques to come and dance calmly.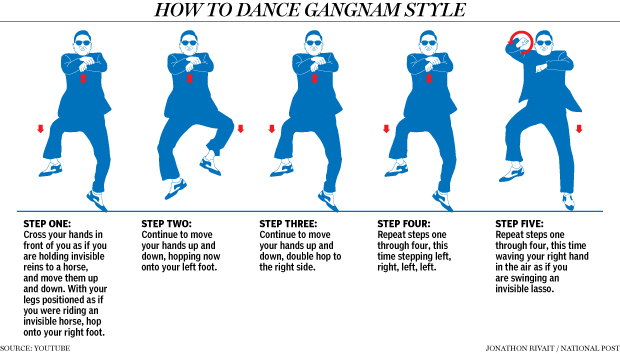 Psychologically, the same moment can be stretched out for an indefinite time. After all, it is imperative to "not lose face", "learn more figures" and be sure what to do in case "there is an unfamiliar movement".
In fact, the partygoers don't really care (except for a small layer of non-professional teachers who want to help inexperienced dancers by treating them as customers in the future). It is important to come and try dancing after a month of classes. You can only with friends or guys from your group. This will be enough to feel the adrenaline and inspiration from the dance.
4. Dance with partners or partners not of your level

The conventional wisdom that you need to practice in groups of your level does not stand up to the test of experience. Perhaps now your eyes widened in surprise, and you want to meaningfully read the phrase again. Yes, you saw everything correctly: when you dance with a partner of your level, you don't grow anywhere.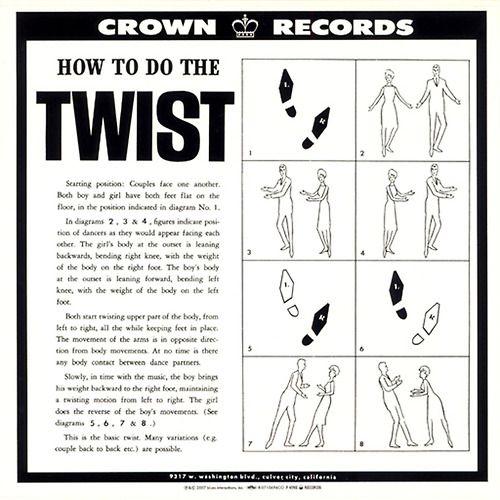 It's important to understand that not only does it work one way and you have to dance with cooler dancers, but it works even more effectively the other way. It is no coincidence that teaching pair dances dramatically raises the level of the teacher himself. You have an endless stream of very beginner dancers.
How it works. A more experienced partner needs to be "stretched". It's easy and obvious. With beginners, you need to take more initiative on yourself, see the general pattern of the dance more widely, turn on and insure more, try to be an example and be more careful. The quality of interaction begins to grow significantly. And wonderful partners too.
Dancing with partners of your level doesn't make you grow. Dance with beginners and more advanced dancers
Dominican Bachata Women's Style Online Course

Want to learn how to hypnotize those around you with the most appetizing part of your body? On the course we will tell you all the secrets.
5. Learn to dance for a partner and for a partner
Turks and Argentines are one of the best partners in the world. In Russia, partners are highly valued. Why? The answer is simple. In Argentina and Turkey, it is not questionable for men to ask another man to lead in one piece or another and give feedback on the quality of the lead. For them, it will be a great shame to hear moralizing from a partner, or even more so to be known in the community as an insecure partner.
In Russia, due to the constant, often far-fetched, opinion that there are more women in pair dances, partners calmly get up and study their partner's part. Such partners then grow into very cool dancers and teachers. In no case do this at parties, only in class. Here we are talking only about the learning strategy. At parties, be yourself.

6. Do not memorize the links
Always try to look deeper and understand the through principle and idea of ​​movement.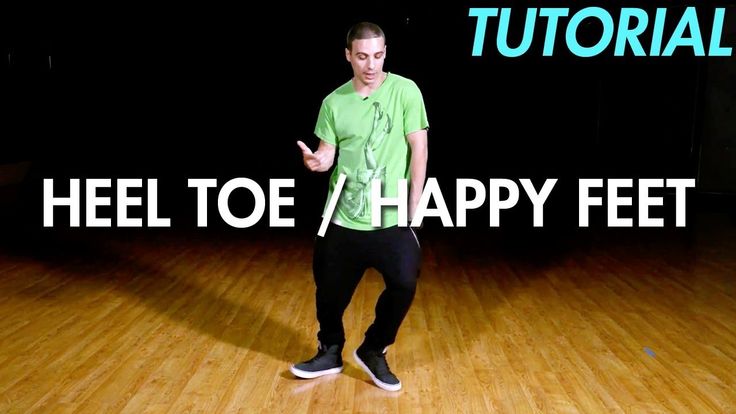 Understanding what and how is done will make it possible to independently generate any sequences and chips.
Human memory is limited and there will always be a moment when something will escape and your repertoire will be limited by the size of RAM.
In Argentine tango, for example, there are seven levels of movement formation that, when mastered, will allow you to make millions of combinations. And how many dance sequences can you really remember? In rueda, more than 150 figures dance in a rare circle. It's hard to keep more in mind.
7. Develop your body
Many years of experience in teaching pair dance shows that as soon as everyone pairs up in a class, any progress in individual style ends. But it is the individual style that distinguishes everyone at the disco: partners change, and style is always with you.
The body as the main instrument of dance must be very plastic, responsive and emotional. Surprisingly, not all pair dance schools have a general physical warm-up.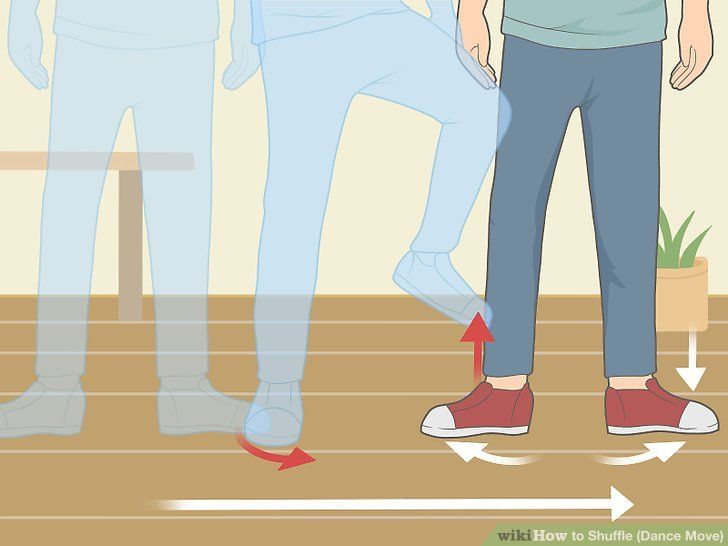 It is vital to tune the body and understand how it works.
You can always train extra and concentrate more on the basic steps, as their true value is as body work. The sequence of steps is, in fact, the simplest thing that can be in pair dancing. The quality of individual performance determines the craftsmanship.
8. Try on the images of inspiring dancers

A psychological life hack for those who have already mastered the steps, but still feel that there is not enough brightness and drive. Most are terribly afraid of being someone else's "clone". Here the action is the same as under the influence of hypnosis - the more you resist, the more you plunge into an altered state of consciousness.
With a high degree of probability, you are already dancing like someone else's "clone". A meaningful fitting of someone else's image is that you mentally take the image of the one who inspires you (inspiration is critical in this case) and "put on" yourself.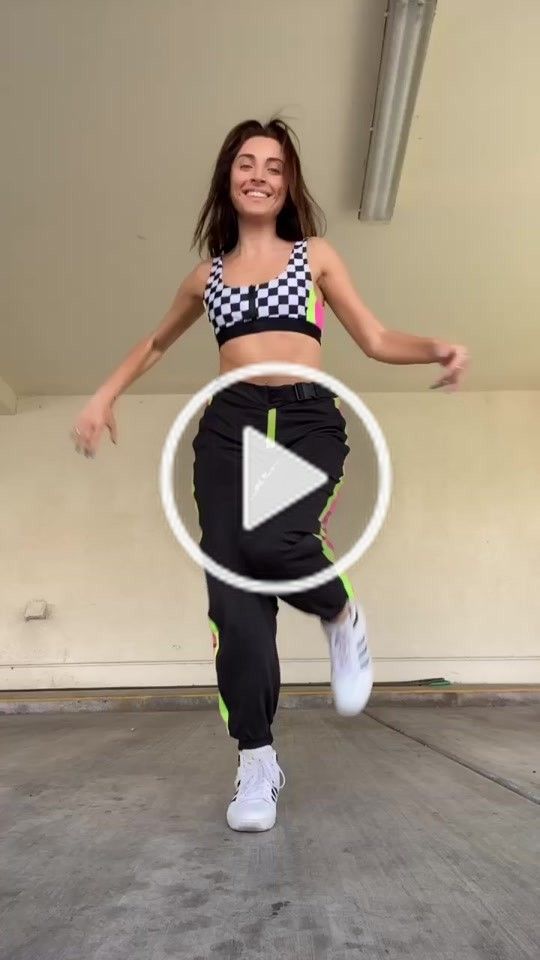 Then you start dancing and trying to feel in general how it is to be able, for example, to be the best partner or the sexiest partner in a disco. This is much more difficult than it seems. But it works extremely efficiently.
9. Dance to offbeat music

Habitual rhythms keep you tight. Tango salon or speedy timba leaves little room for experimentation and fantasy. Pattern dancing is always noticeable and is reserved for beginners.
The truly new is born outside of the usual. Look for places to experiment. If there is no place, organize self-training. The main thing is not to get carried away, because music determines the style. We bring something new to pair dances, rather than trying to change them.

Search, improvise, don't be afraid to go beyond, develop in different directions, be inspired by music atypical for style
10. Try your hand at basic dance directions

dances exist according to their own non-choreographic laws.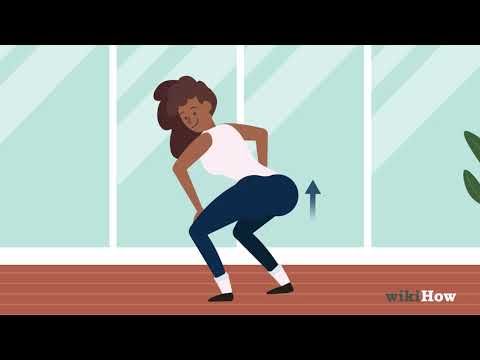 This is the deepest delusion, which has turned into a ceiling for the qualitative development of partner dances. After all, all professional dancers, for example, in salsa or bachata, build their ideas on the basic choreographic principles.
Do not think that choreography is only applicable on stage. Any meaningful movement of the body can be choreographic. In general, try classical or modern choreography. Basically, hip-hop can work too.

11. Look for battle sensations

Pair dances return us to an active position of manifestation of our body. As in the days of our ancient ancestors, we impress the members of the opposite sex by how dexterous, hardy, sexy, etc. we are. Modern laws of the jungle in the entourage of big cities.
If you look around the dance floor, it becomes clear that the majority are clearly herbivores (not in the sense of vegetarians, but in relation to those around them).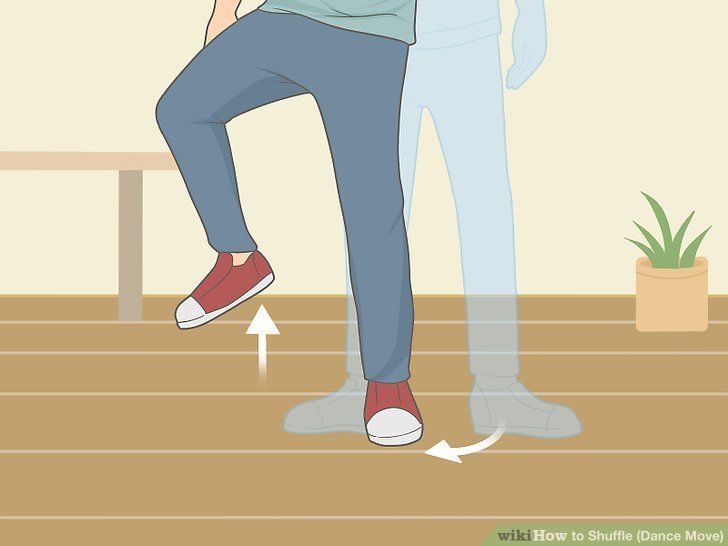 I am sure that predators are always more interesting in terms of the attractiveness of the image - try to find a counterbalance among herbivores, for example, a cat woman or a lion man.
The conversation is about an internal position, not about aggressiveness. Lability and lack of control are inherent in adolescents, and not in adult self-sufficient people.
Accordingly, even a training or friendly battle gives, on the one hand, practical skills - to make a bright sequence of movements, bring an idea to a climax, show a spectacular feature, on the other hand, develops the psychological basis of the dance - self-confidence, resistance to extraneous attention, self-control and self-control in complex elements.

12. Communicate with professionals
The environment shapes the internal position. Basically, real passionaries of the dance community are ready to openly talk, discuss and support the development of dance in every possible way.