How many dancing with the stars has derek hough won
Dancing with the Stars most wins: Every pro who won Mirror Ball Trophy
Daniel Montgomery dan_something

Reality TV
ABC/Adam Larkey
"Dancing with the Stars" premiered in 2005 with a focus on teaching celebrities some fancy footwork. But along the way the professional dancers who teach and partner with those celebrity amateurs became stars in their own right. Many of them returned to the show year after year, and over a dozen have won the coveted Mirror Ball Trophy over the course of the series. Scroll down to see every single "DWTS" pro champion, listed by their number of victories.
It's fitting that the "DWTS" pros have become fan-favorites because they're not just dancers.
They're also trainers, choreographers and storytellers, and their chemistry with the stars fuels the show's best routines, so they're truly the lifeblood of the competition, especially when they bring talent and charisma out of unexpected places, from child stars to race car drivers to one male model, Nyle DiMarco, who won the Mirror Ball Trophy despite being deaf: you need the steady hand of a pro more than ever when you can't hear the music.
The first season aired during the summer of 2005, included just six couples, and lasted only six weeks until "General Hospital" actress Kelly Monaco was crowned the winner with her pro partner Alec Mazo, who competed in four more seasons of the show but didn't win again. He was followed by Cheryl Burke, who became the show's first two-time professional winner with her back-to-back victories in season two (with singer Drew Lachey) and season three (with football star Emmitt Smith).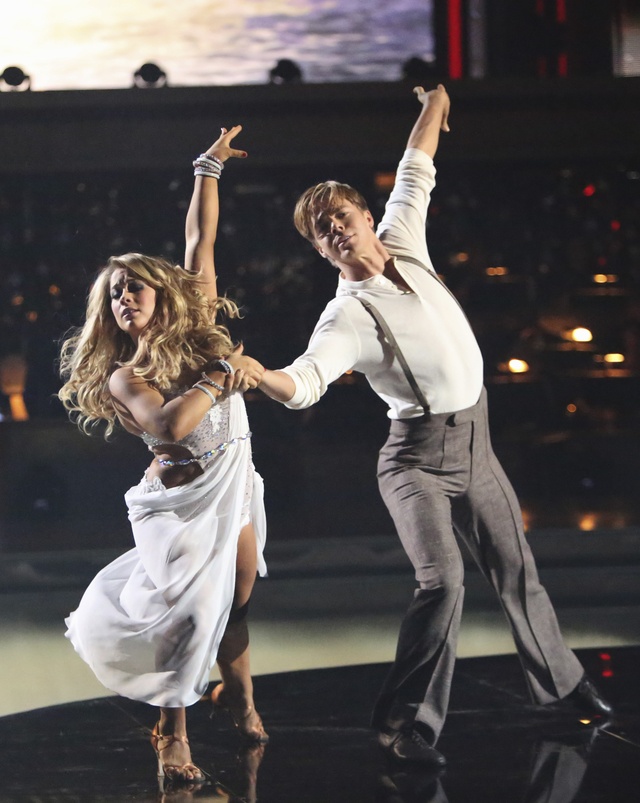 But before long Derek Hough, arguably the biggest breakout star in the show's history, eclipsed that total with six Mirror Ball Trophies, far more than any other pro before or since. Hough even continued that winning streak outside of the competition, winning a couple of Emmys for Best Choreography for routines that he created for "DWTS." But he's not the show's only professional success story. See the full list below.
1 Win
Lindsay Arnold
Season 25 with Jordan Fisher
Alan Bersten
Season 28 with Hannah Brown
Sharna Burgess
Season 27 with Bobby Bones
Witney Carson
Season 19 with Alfonso Ribeiro
Artem Chigvintsev
Season 29 with Kaitlyn Bristowe
Maksim Chmerkovskiy
Season 18 with Meryl Davis
Tony Dovolani
Season 15 with Melissa Rycroft
Jenna Johnson
Season 26 with Adam Rippon
Daniella Karagach
Season 30 with Iman Shumpert
Alec Mazo
Season 1 with Kelly Monaco
Emma Slater
Season 24 with Rashad Jennings
Karina Smirnoff
Season 13 with J.R. Martinez
2 Wins
Mark Ballas
Season 6 with Kristi Yamaguchi
Season 8 with Shawn Johnson
Cheryl Burke
Season 2 with Drew Lachey
Season 3 with Emmitt Smith
Val Chmerkovskiy
Season 20 with Rumer Willis
Season 23 with Laurie Hernandez
Julianne Hough
Season 4 with Apolo Anton Ohno
Season 5 with Helio Castroneves
Kym Johnson Herjavek
Season 9 with Donny Osmond
Season 12 with Hines Ward
Peta Murgatroyd
Season 14 with Donald Driver
Season 22 with Nyle DiMarco
6 Wins
Derek Hough
Season 7 with Brooke Burke
Season 10 with Nicole Scherzinger
Season 11 with Jennifer Grey
Season 16 with Kellie Pickler
Season 17 with Amber Riley
Season 21 with Bindi Irwin
'Dancing with the Stars': Who got hurt - ouch! - and had to quit?
Which Celebs Has Derek Hough Won With?
Derek Hough is the most decorated of all the Dancing With the Stars pros. He holds the record for the most wins n the series. Hough has taken home six glittery disco ball trophies for his work on the series, where he has been paired with a who's who of celebrities. Some of the big names, Derek Hough, has led to victory on Dancing With the Stars with may surprise you.
Derek Hough | Eric McCandless/ABC via Getty Images
Derek Hough didn't begin his "Dancing With the Stars" journey as a dancer
Dancing With the Stars initially welcomed Hough not as a dancer but as a guest instructor. During season 4, he assisted his sister, pro-Julianne Hough, in her choreography.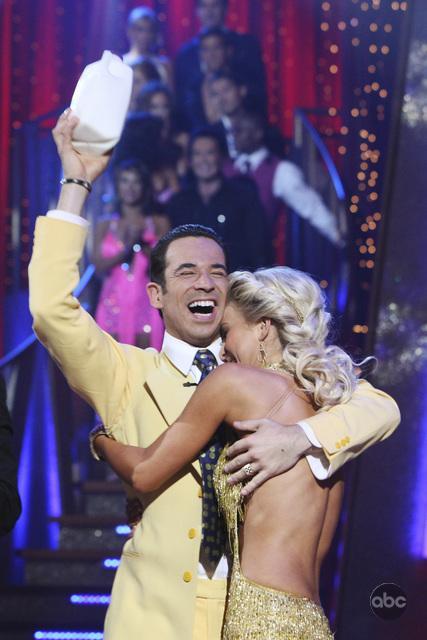 At the time, Julianne danced with Apolo Anton Ohno and would win that season. Hough would join the cast of pros in season 5. He paired with former Beverly Hills 90210 star Jennie Garth. Hough and Garth made it to the semi-finals before their elimination where they made it to fourth place.
Hough opened up about what his first seasons in the ballroom were like in an interview with The Salt Lake Tribune. He admitted that his first partners on the show believed him to be much younger than he was. During Hough's first season of competition, he was just 22-years-old.
"Honestly, I felt like I was just kind of faking it," he told the outlet. "Trying to prove myself to my partners."
Which celebs did Derek Hough lead to a mirrorball win?
Derek Hough and Bindi Irwin | David Livingston/Getty Images
RELATED: 'Dancing With the Stars': Derek Hough Would Dance Again if This Singer Were His Celebrity Partner
Hough won his first trophy for Dancing With the Stars in season 7 alongside Brooke Burke.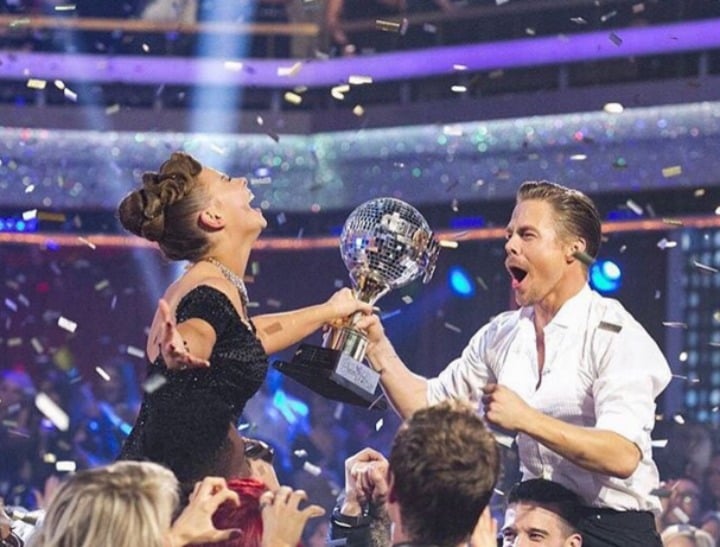 Hough won his second trophy in season 10, paired with The Pussycat Dolls' Nicole Scherzinger. In season 11, Hough and Dirty Dancing star Jennifer Grey took home the win.
Hough continued his winning street alongside country music superstar Kellie Pickler, taking a trophy in season 16. He followed that up in season 17 with a win alongside former Glee star Amber Riley. His final win was alongside animal conversationalist Bindi Irwin in Season 21. The duo set a record with eight perfect scores, beating the six set by former celebrity competitors Jennifer Grey, Meryl Davis, and Rumer Willis.
What other celebs did Derek Hough compete with that did not win a mirrorball trophy?
Shawn Johnson and Derek Hough | Slaven Vlasic/Getty Images
RELATED: 'Dancing With the Stars': This 'Bachelor' Star Reportedly Signed on for Season 30
Although he is one of the most decorated pros in the show's history, Hough did not always come out a winner alongside the celebs he mentored.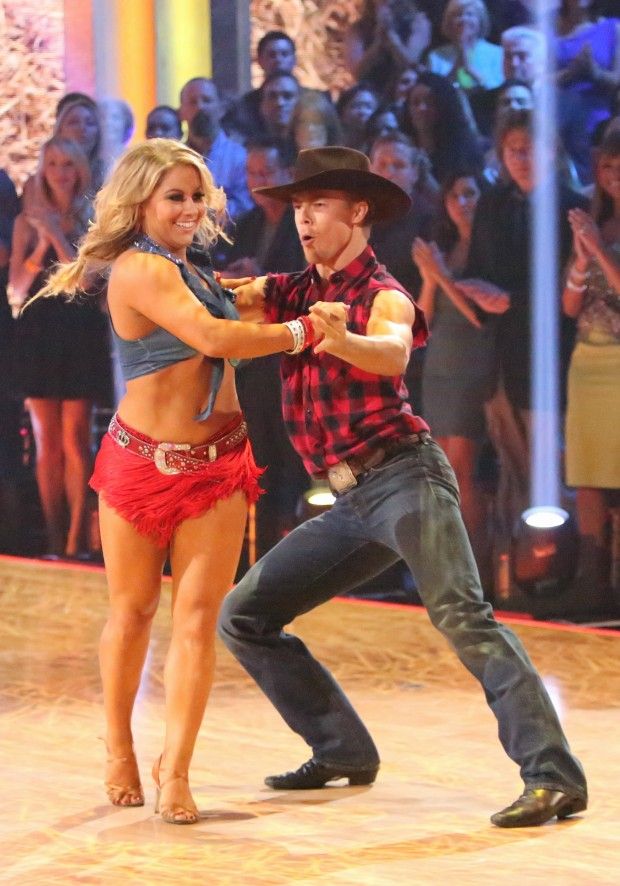 Hough competed with Scary Movie star Shannon Elizabeth in season 6, coming in 6th place. Rapper Lil' Kim was his partner in season 8; they came in 5th place. Model Joana Krupa and Hough paired up in season 9, and they came in 9th place. In Season 13, Hough paired with actor and talk show host Ricki Lake. They came in 3rd. Maria Menounos partnered with Hough in season 14 and left in the semi-finals. Season 15 partner Shawn Johnson danced well with Hough but made it just short of the finals. In season 18, Hough competed with paralympic snowboarder Amy Purdy; they came in second place.
YouTube personality Bethany Mota made it to fourth place with Hough in Season 19. Gymnast Nastia Liukin was Hough's partner in fourth place for season 20. For his final season as a pro, Hough danced with television star Marilu Henner. In season 23, he came in 6th place.
Derek Hough will act as a judge for season 30 of 'Dancing With the Stars'
Carrie Ann Inaba, Derek Hough, and Bruno Tonioli | Eric McCandless/ABC via Getty Images
For the 30th season of Dancing With the Stars, Hough will act as a judge.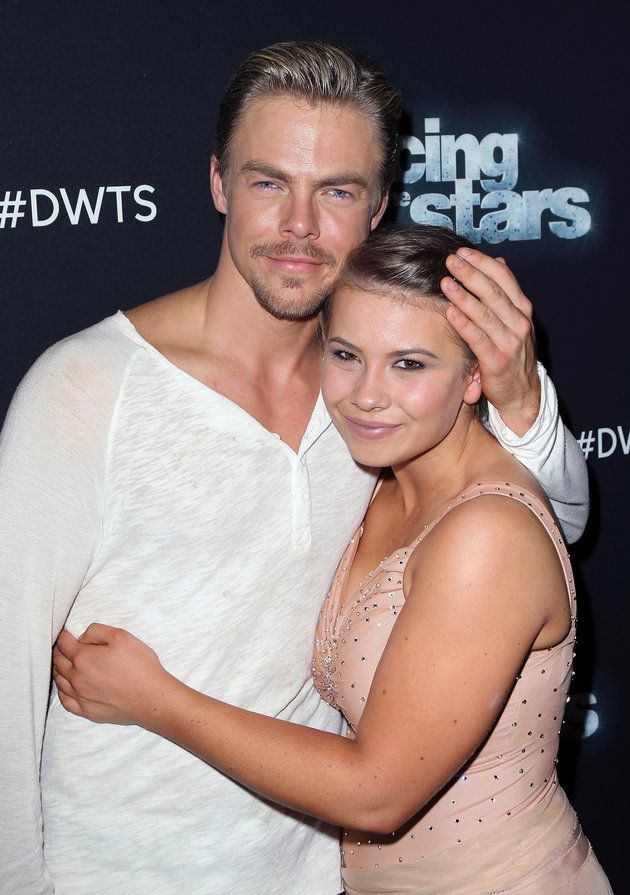 He will sit alongside Carrie Ann Inaba, Bruno Tonioli, and Len Goodman as they judge the dance skills of the competing celebrities and pros.
Dancing With the Stars will return to ABC on September 20 at 8 p.m. EST.
Derek Hough - frwiki.wiki
For articles of the same name, see Hough.
Derek Hough (born in Salt Lake City, Utah) is a United States dancer, choreographer, actor, singer, and musician. He is best known as one of the dancers on Dancing with the Stars between and December 2016. Through participation in Dancing with the Stars , he also won an Emmy for Best Choreographer on 65 - th Emmy Awards ceremonies held in Los Angeles at .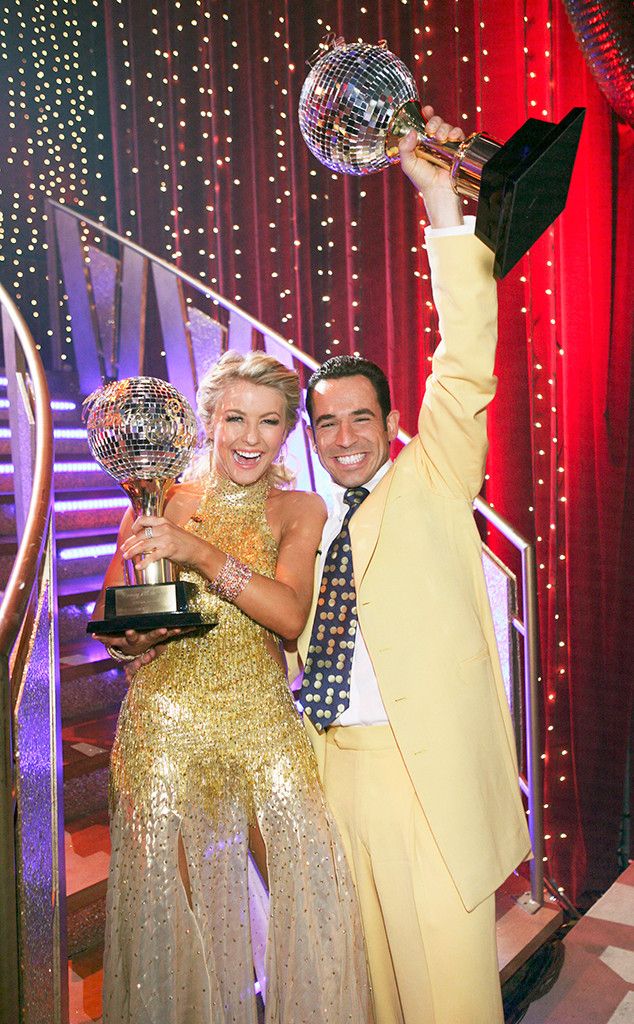 Summary
1 Biography
2 Career

2.1 Dance
2.2 Dancing with the Stars
2.3 Comedy

3 Privacy
4 Filmography

4.1 Cinema
4.2 Television

5 Notes and references
6 External links
biography
Derek grew up in Sandy, a town in Salt Lake County. He has four sisters; Katherine, Mara Beth, Shari and Julianne. Her paternal grandparents, Colleen and Bob Hough, were professional dancers, while her maternal grandparents were also dancers. Her parents, Marianne Nelson and Bruce Hough, met at the University of Idaho prom. He is the cousin of Ross Lynch.
When Derek was 12, his parents sent him to London to study with choreographers Shirley and Corky Ballas. A few months later, his younger sister Julianna joined him. When he was supposed to stay in London for just a year, Derek decides to stay there for ten years, while Julianne stayed for five years.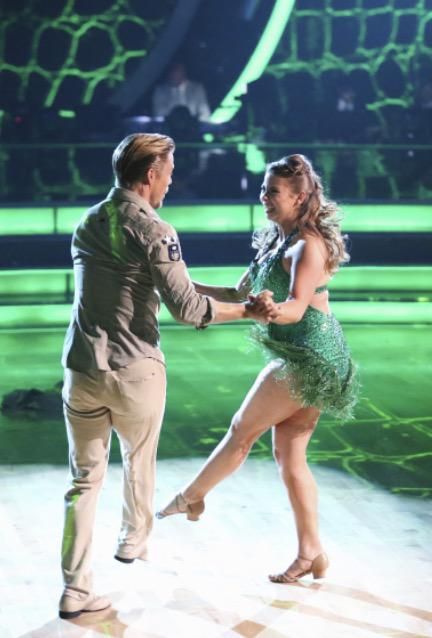 Shirley and Corky Ballas were his teachers and choreographers; This is how he grew up with their son Mark Ballas. Derek, Mark and Julianna started a group called 2B1G (2 boys, 1 girl) and competed together in several dance competitions in England and the USA.
Career
Dance
Derek studied at the Italia Conti Theater Academy in London. He was previously part of the dance troupe Chitty Chitty Bang Bang at the London Palladium. Derek is a former World Latin Dance Champion at the IDSF World Youth Latin Dance Championships (2002) with Aneta Piotrowska, a Polish dancer. He then received the Dancer of the Year award as well as the New York Dance Alliance's Outstanding Dance award. He is one of the panelists of Bruno Tonioli on DanceX , which aired its first episode on . Through Bruno Tonioli, Derek met Cheryl Cole and starred in her video " Parachute ".
At Derek announced that he had worked with world champion dancers Meryl Davis and Charlie White.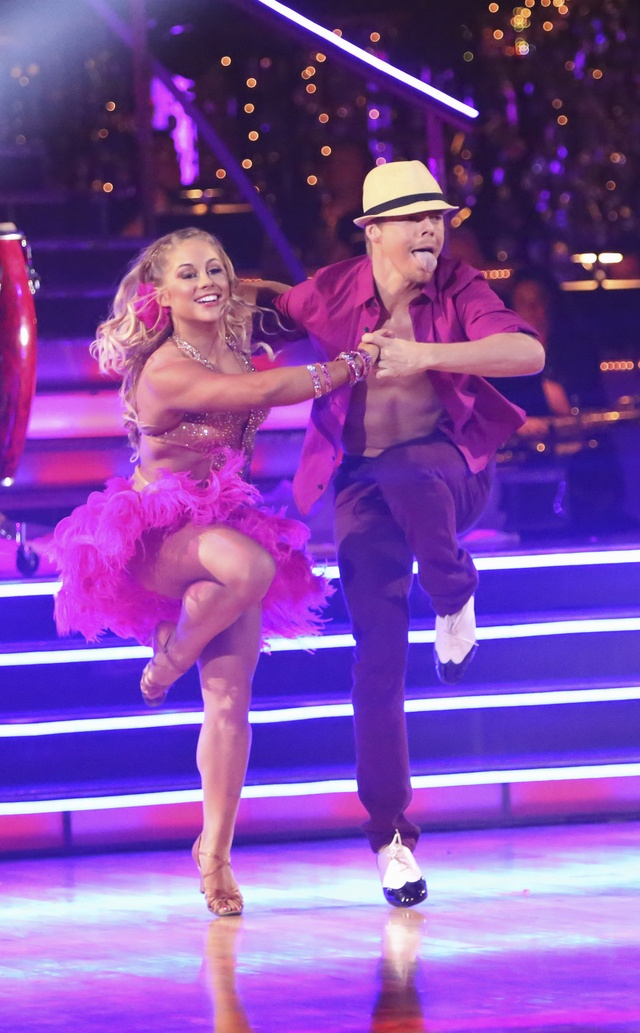 Of the experience, Derek said, "I started working on a very special routine that is not for Dancing with the Stars . Now I am preparing the choreography of the world champions Meryl Davis and Charlie White for the Olympic Games next year. I was very kindly asked to do this, how could I refuse? It's a great honor and they are amazing. ".
Dancing With The Stars
On September 27, 2007, at the launch of the fifth issue, he teamed up with actress Jennie Garth. She played Kelly Taylor for ten years in the series Beverly Hills and its spin-offs Melrose Place and . She was married to actor Peter Facinelli, they announced their divorce in March 2012. The adventure ends on November 20, 2007, one week before the final, which will crown Hélio Castroneves, and nine weeks of competition.
On March 17, 2008, he competed against actress Shannon Elizabeth. She notably appeared in American Pie and Scary Movie . After eight weeks of play, the couple is eliminated by the public on April 29, 2008, three weeks before the final to be crowned by Christy Yamaguchi.
September 22, 2008 in season 7 he will dance with host Brooke Burke. She is also known to have posed nude for Playboy magazine and is partnered with David Charvet. In the final on November 25, 2008, they won the competition for the first time.
On March 9, 2009, the eighth episode begins, in which he will share the competition with rapper Lil 'Kim. She won a Grammy Award and was on the jury to select the new Pussycat Dolls. Two weeks before the end of the game, on May 5, 2009, they are eliminated. It will be Shawn Johnson who will win the game along with Mark Ballas.
September 21, 2009 it is with model Joanna Krupa that he will dance in the ninth season. She is an actress and also participated in a song play on ABC with fellow contestant David Charvet. As with Jenny, they were eliminated a week after the final on November 17, 2009of the year.
On March 22, 2010, the tenth issue opens with singer Nicole Scherzinger. She is the lead singer of the Pussycat Dolls and a girlfriend of Lewis Hamilton. Less than two years after his first win, they won the adventure for the second time.
On September 20, 2010, at the launch of the eleventh issue, his teammate was actress Jennifer Grey. She is known for starring in Dirty Dancing and being nominated for a Golden Globe. Just five months after his second win, he won the trophy alongside Jennifer. Thus, he has three wins (including two in a row).
On September 19, 2011, he returned to the show for its thirteenth episode with actress and television presenter Ricki Lake.
On March 19, 2012, he partnered with presenter, actress, singer, dancer and model Maria Menounos during the fourteenth edition.
On September 24, 2012, in Season 15, , , she was partnered with Season 8 winner Shawn Johnson. On November 27, they made it to the finals and were runners-up to Melissa Rycroft (Season 8 finalist).
On March 18, 2013, country singer Kelly Pickler became her partner in "Issue Sixteen". On March 21, 2013, they won the competition. This is the fourth time he has won after 7, 10 and 11 seasons.
On November 26, 2013, his seventeenth episode will be partnered by Amber Riley, who gained recognition for her role as Mercedes Jones in the drama series Glee . On November 26, 2013, he again won the Dancing with the Stars with his partner. This is the second time he has won a season twice in a row (Pickler and Riley), after 2010 with Scherzinger and Gray. Does 5 e crown him in this show (seasons 7, 10, 11, 16 and 17).
From March 17 to May 20, 2014 he competes with Amy Purdy. In the final, they will be runners-up to Meryl Davis.
In this new season, his sister Julianne Hough becomes 4- m official juror. His partner is YouTube personality Bethany Mota. The show will begin on September 15, 2014. They will fly out at the gates of the final on November 24, 2014. Alfonso Ribeiro wins this season.
March 16, 2015, in the 20th season, which marks the 10th anniversary of the show, Olympic champion gymnast Nastya Liukina will become his partner. His cousin, Riker Lynch, a member of the R5, is also among the candidates this season.
In the 21- m season of Dancing with the Stars he partnered with Australian actress Bindi Irvine. On November 24, 2015, they won the competition. Does 6 e crown him in this show (seasons 7, 10, 11, 16, 17 and 21).
For 23 - th season, he collaborates with Celebrity Apprentice actress and writer, Marilu Henner.
| Season | Partner | Occupation | Square | Average (out of 30) |
| --- | --- | --- | --- | --- |
| 5 | Jennie Garth | Actress ( Beverly Hills, | 4 Thu | 25.7 |
| 6 | Shannon Elizabeth | Actress ( American Pie ) | 6 Thu | 24.5 |
| 7 | Brooke Burke | TV presenter | 1- th | 27.1 |
| 8 | little kim | Rapper | 5 Thu | 25. 8 |
| 9 | Joanna Krupa | Mannequin | 4 Thu | 25.5 |
| 10 | Nicole Scherzinger | Singer ( Pussycat Dolls ) | 1- th | 27.5 |
| 11 | Jennifer Gray | Actress ( Dirty Dancing ) | 1- th | 27.2 |
| 13 | Lake Riki | Television presenter and actress | 3- th | 26.7 |
| 14 | Maria Menounos | Actress, journalist and television presenter | 5 Thu | 26. 8 |
| 15 | Sean Johnson | Professional gymnast | 2- th | 27.9 |
| 16 | Kelly Pickler | Singer who participated in American Idol 5 | 1- th | 27.3 |
| 17 | Amber Riley | Actress in particular in Glee | 1- th | 27.8 |
| 18 | amy perdy | Paralympic snowboarder and actress | 2- th | 27.9 |
| 19 | Bethany Mota | YouTube Personality | 4 Thu | 27. 22 |
| 20 | Nastya Liukina | Olympic Gymnastics Champion | 4 Thu | 27.45 |
| 21 years old | Bindi Irvine | Australian actress | 1- th | 27.9 |
| 23 | Marilu Henner | Actress and writer | 6 Thu | 23.8 |
Note: in the 19th season the jury consists of 4 people. Thus, the average values ​​are adjusted by more than 30 points.
Comedy
In 2011 Derek Hough did not take part in the season of Dancing with the Stars, to star in Make Your Move 3D (in) (Director Duane Adler (in) , screenwriter of Save the Last Dance and " Sexy Dance").
) next to K-Pop star BoA. The film was released on October 17, 2013 in Hong Kong, and on July 24, 2013 in Belgium and in France 1 - th April 2015 it was announced in the spring of 2014 in the United States. In 2014, he became a regular cast member on the American television series Nashville (season 3: episodes 3, 5 and 6) created by Callie Howry.
Private life
Derek was in a relationship with British actress India de Beaufort from 2000 to 2008 . AT , Derek leaves India to hang out with actress Shannon Elizabeth, whom he dated until .
On , Derek revealed that he was in a relationship with British singer Cheryl Cole from to .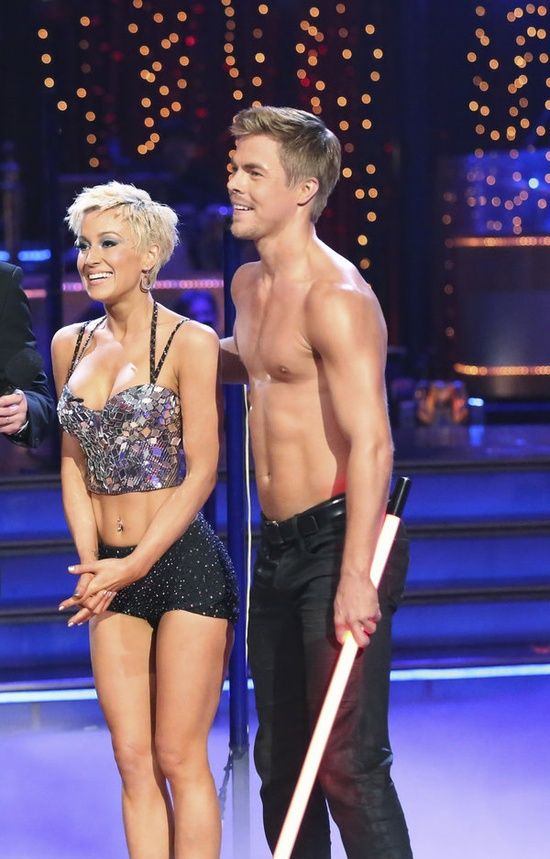 From August to October 2013, Derek was in a relationship with Nina Dobrev.
He is currently in a relationship with Haley Erbert.
Filmography
Movie
2001: Harry Potter and the Philosopher's Stone Chris Columbus: Student
2012: Rock Forever ( Rock of Ages ) Adam Shankman: dancer
2013: Make Your Move: Un pas vers toi ( Make Your Move ) Duane Adler: Donnie
TV
2007 - 2016: Dancing with the Stars : myself (professional partner)
2011: Better with you (TV series): Philip (1 episode)
2014 - 2016: Nashville (TV series): Noah West (recurring)
2016 : Maiden Jane (TV Series): Salsa Dancer (1 episode)
2016 : Hairspray Live! (TV): Roots Collins
from 2017 : World of Dance (TV Series / Competition): Himself (Judge)
2018: Running Wild with Bear Grylls : himself (guest member)
2020: Disney Family Sings: Himself (dance on Be Our Guest (song))
Notes and links
↑ Sibling rivalry: Siblings compete to win Dancing with the Stars
↑ [1]
↑ [2]
↑ DanceX
↑ and b Derek Hough, " Dancing Derek Hough: 'The Dancing Team in Terrible '", on TV Guide, CBS Interactive Inc. , (accessed May 17, 2014)
↑ Davis, White Mine, Middle East, for a new free dance
↑ "Release Information". IMDb.com. (as of November 28, 2013)
↑ ugc.be, Make Your Move (accessed 28 November 2013)
↑ Allociné, Make Your Move (accessed 28 November 2013)
↑ (us) Make your move in 3D (ru)
↑ [3]
↑ a and b [4]
↑ [5]
↑ [6]
↑ [7]
↑ [8]
↑ " Nina Dobrev and Derek Hough split after 6 weeks of dating ", E! News , ( read online consultation June 22, 2018 )
External links
Dancing With The Stars

Seasons
1 2 3 4 5 6 7 8 9 10 11 12 13 14 15 16 17 18 19 20 21 22 23 24 25 26 27 28
Leading
Tom Bergeron (1-15) Lisa Canning (1) Samantha Harris (2-9) Brooke Burke Charvet (10-17) Erin Andrews (18 to date) Sub: Drew Laci (5, Samata Harris ) Kim Johnson Herjawek (23, Erin Andrews )
sworn
Carrie Ann Inaba (1 today) Len Goodman (1-20, 22-present) Bruno Tonioli (1 today) Julianne Hough (7-21, 23-24)
Winners
Kelly Monaco Drew Lachey (coming out) Emmitt Smith Apolo Ono Helio Castroneves Christy Yamaguchi Brooke Burke Sean Johnson Donny Osmond Nicole Scherzinger Jennifer Gray Hines Ward Martinez Jr. (c) Donald Driver Melissa Rycroft (in) · Kelly Pickler · Amber Riley · Meryl Davis · Alphonso Ribeiro · Rumer Willis · Bindi Irwin · Niall DiMarco · Lauren Hernandez · Rashad Jennings · Jordan Fisher · Adam Rippon · Bobby Bones (in) · Hannah Brown (en)
Second
John O'Hurley · Jerry Rice · Mario Lopez · Joey Fatone (coming out) · Melanie Brown · Jason Taylor · Warren Sapp · Gilles Marini · Maya · Evan Lysacek · Kyle Massey · Kirsty Alley · Rob Kardashian · Katherine Jenkins · Shawn Johnson · Zendaya Coleman Corbin Blue Amy Purdy Sadie Robertson (in) Riker Lynch (in) Nick Carter Paige Vanzant James Hinchcliffe David Ross Lindsey Stirling Josh Norman Milo Manheim Kel Mitchell
Third
Joey McIntyre · Keibler · Joseph Lawrence · Lila Ali · Marie Osmond · Cristián de la Fuente · Lance Bass · Melissa Rycroft (c) · Kelly Osbourne · Erin Andrews · Bristol Palin (c) · Chelsea Kane · Ricky Lake · William Levy · Kelly Monaco · Jacoby Jones · Jack Osbourne · Candice Cameron Bure · Janel Parrish · Noah Galloway · Alexander Scarlatos · Ginger Z · Calvin Johnson · Normani · Frankie Muniz · Tonya Harding · Evanna Lynch · Ellie Brooke
Around
Dances with stars
Who won Dancing with the Stars
Kelly Pickler and Derek Hough
Inspired by the hugely successful British TV series, Dancing With the Stars has grown into a worldwide phenomenon that shows no signs of stopping. Each season crowns a winning star and her or her professional dance partner.
Past Dancing with the Stars winners
Dancing with the Stars winners take home the coveted Mirror Ball Trophy. To date, the following couples have become the winners of the competition.
Articles on the topic
Equipment of the dance studio
Latin American dance pictures
Clothes for dancing praise
21 seasons of 2015: Derek Khaf
Spectators Mosyvin Irvin IIVA, DOWEVENA.
Bindi is a broadcaster and conservationist from Australia and her energy and hard work made her one of the early favorites for this competition. She is now tied with the show's youngest winner at age 17 (Shaun Johnson shares the title) and partner Derek Hough has increased his win total to six.
Season 20, 2015: Rumer Willis and Valentin Chmerkovskiy
Singer and actress Rumer Willis, who is also the daughter of Hollywood stars Bruce Willis and Demi Moore, defeated eleven other celebrities to win. Dancing With The Stars Season 20. Her professional partner Valetin Chmerkovskiy is the younger brother of DTWS pro-dancer Maksim Chmerkovskiy.
Season 19, 2014: Alfonso Ribeiro and Whitney Carson
Alfonso Ribeiro proved he could dance better than him Fresh Prince of Bel Air alter ego Carlton when he won season 19 DWTS with pro partner Whitney Carson. In fact, Ribeiro is an accomplished dancer in his own right—not only did he perform on Broadway as a child, he also starred alongside Michael Jackson in a Pepsi commercial.
Season 18, 2014: Meryl Davis and Maksim Chmerkovskiy
Professional figure skater and dancer Meryl Davis won the mirror ball trophy in Season 18. Her figure skating partner Charlie White was also one of the cast, creating an even more competitive season. Davis holds the record for the highest average celebrity score across all of his performances, with an impressive 28.4 out of 30.
bath bed and no return policy
Season 17, 2013: Amber Riley and Derek Hough
Amber Riley, best known for her role as Mercedes Jones in Glee , partnered with the highly successful Derek Hough to win season 17. With five perfect scores and only one score below 8/10 all season, Riley easily defeated fellow finalists Corbin Bleu and Jack Osborne.
difference between bourbon whiskey and scotch
Season 16, 2013: Kelly Pickler and Derek Hough
Kelly may have only finished 6th in the fifth season of American Idol , but she and her partner Derek Hough beat the competition to take home the mirror ball trophy.
It was Howe's fourth championship, giving him the most wins in the show's history.
2012 Season 15: Melissa Rycroft & Tony Dovolani
Melissa Rycroft & Tony Dovolani
Former Dallas Cowboys cheerleader and The Bachelor Star Melissa Rycroft got a second chance at the coveted mirror ball when she joined the cast of Season 15 of the All-Stars. The competition was fierce, but in the final, Rycroft and her partner Toni Dovolani faced the former winners of seasons 1 and 8. The judges thought Melissa's dance was adorable, but maybe the show's longtime fans voted good guy Tony Dovolani to give the couple a spot in mirror ball history.
Season 14 2012: Donald Driver and Peta Murgatroyd
Green Bay Packer Donald Driver may have started the season second from bottom, but he peaked at just the right time. All three final pairs pulled out triple tens of the judges, but Cha Cha Driver and partner Peta Murgatroyd brought them to victory.
Season 13 2011: J.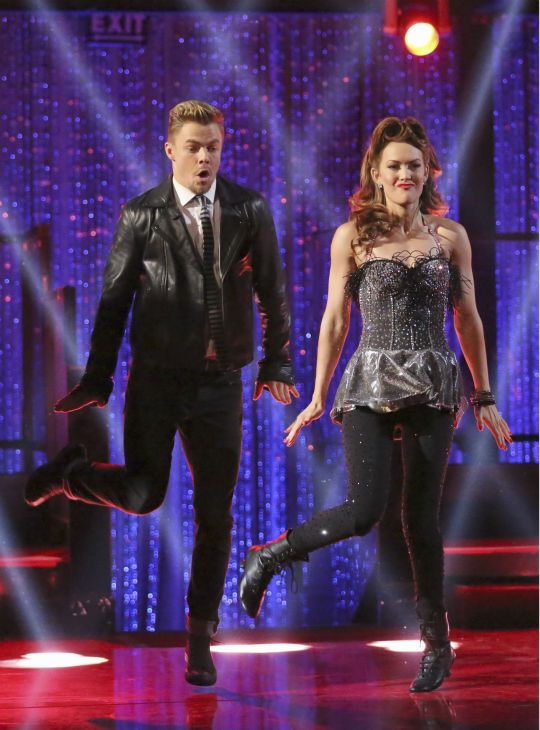 R. Martinez and Karina Smirnoff
J. R. Martinez is one of DWTS 's 'most inspiring contestants'. He was an actor on a now-defunct soap opera. All my children are , but he is also an Iraq War veteran with burns over 40 percent of his body. Lagging fellow competitors Rob Kardashian and Cheryl Burke in the votes of the judges by just one point in the final, the indomitable spirit and dancing talent of J.R. won the votes of the audience and led him and partner Karina Smirnoff to victory.
Season 12, 2011: Hines Ward and Kim Johnson
NFL players always seem to be doing well. DWTS , and Ward, of Pittsburgh Steelers fame, was no exception. Hines and partner Kim Johnson, who are no strangers to top marks, scored a perfect 30 for their free dance. Their Quickstep scored 29 points out of 30 and took home the win.
Season 11, 2010: Jennifer Gray and Derek Hough
Jennifer Gray first charmed the audience with her dancing skills at Dirty Dancing with Patrick Swayze.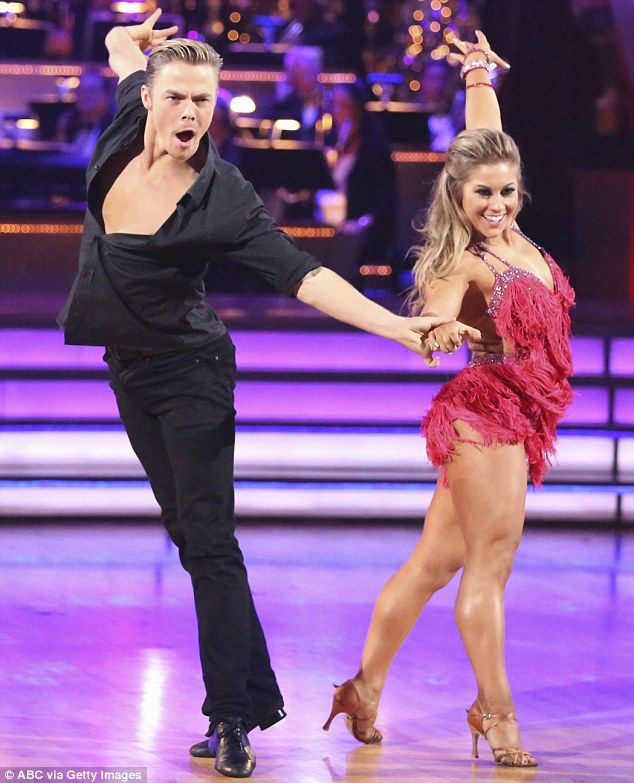 She was 50 at the time of the win and was the oldest star to take home a mirror ball to date. However, the win didn't come easy, even though the pair were consistently at the top of the leaderboard throughout the competition. Gray had to overcome physical handicaps, including a neck injury, to take his place in DWTS history.
Season 10 2010: Nicole Scherzinger and Derek Hough0724 DWTS
and she was a real contender for the trophy from the first dance with Hough. The pair earned high scores throughout the season, eventually capturing the title in season ten.
Season 9, 2009: Donny Osmond and Kim Johnson
Sean Johnson
Donny Osmond has captivated audiences since childhood with The Osmonds. Paired with Kim Johnson, the couple's Argentine tango was called "poetry in motion" by Carrie-Anne Inaba, and the couple's freestyle dance in the final earned them the highest score and ultimately the mirror ball prize.
when to leave a blended family
Season 8, 2009: Sean Johnson and Mark Ballas
Sean Johnson is an accomplished gymnast who is no stranger to physical movement and athletic precision.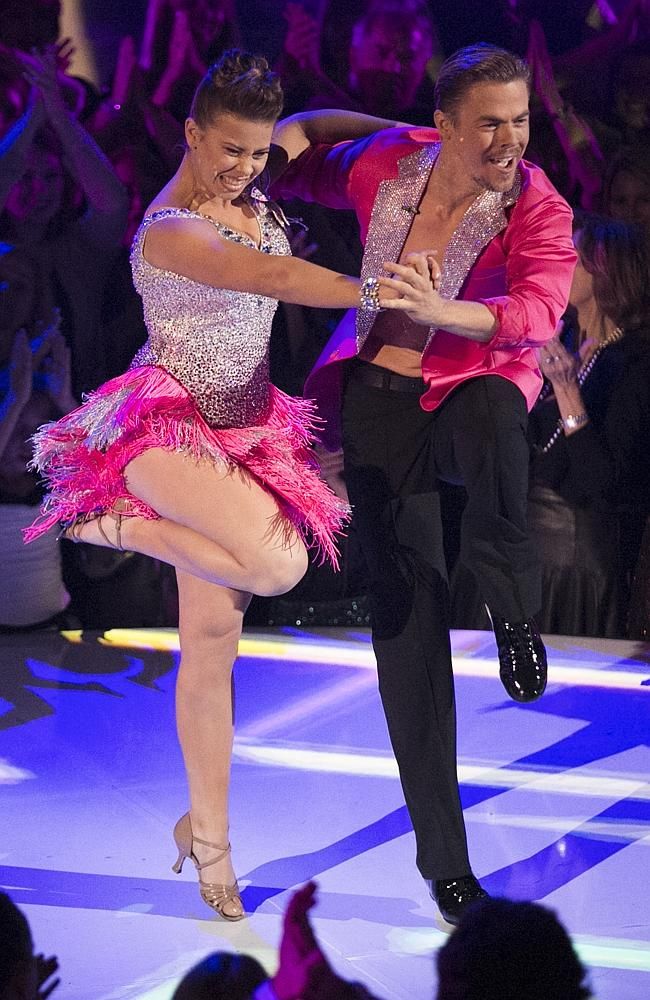 She also has a grace that goes hand in hand with talent. This show's eighth season winner wowed the judges by scoring top marks in Latin American dances such as Argentine tango, cha-cha-cha and paso doble.
Season 7, 2008: Brooke Burke and Derek Hough
Brooke Burke is a TV presenter who quickly rose to the top of the show's seventh season. Together with her partner Derek Hough, she earned several perfect scores and practically from the first episode of the season, she pulled the competition out of the water.
Season 6, 2008: Christy Yamaguchi and Mark Ballas .
Season 5, 2007: Elio Castroneves and Julianne Hough
Apolo Ono
55 community leases
This dance couple has earned several top marks during their collaboration on the show. Their most successful dances were dances with fast and energetic choreography such as quickstep, cha-cha and foxtrot.
Season 4, 2007: Apolo Anton Ono and Julianne Hough
Ono and Hough earned several top marks, most notably for samba and paso doble.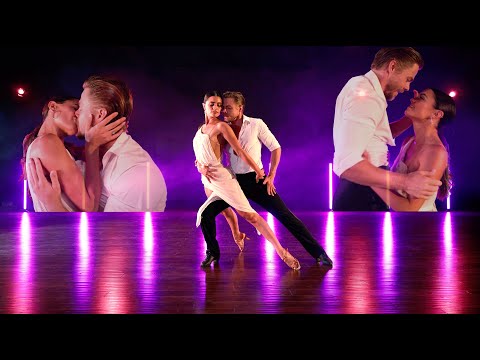 A crowd favourite, it is sometimes thought that this couple was destined to win Season 4 from the start.
Season 3, 2006: Emmitt Smith and Cheryl Burke
Emmitt Smith
Emmitt Smith is perhaps best known for playing the Dallas Cowboys in the spotlight, but as the third celebrity winner, his dancing also deserves a lot of credit . With top marks for Mambo and Samba, Smith looked like he was having a lot of fun dancing in the show.
Season 2, 2006: Drew Lachey and Cheryl Burke
Singer for the band 98 Degrees, Lachey proved himself in the show's second season. DWTS that his dancing skills are just as good as his singing skills. Lachey and co-star Cheryl Burke were number one for most of the weeks of the show's second season.
Season 1, 2005: Kelly Monaco and Alec Mazo
Monaco is a famous model and actress, perhaps best known for her roles on Baywatch and General Hospital and appearing in Playboy and Max magazines.